Wait, Why Does This Stormtrooper Have A Lightsaber?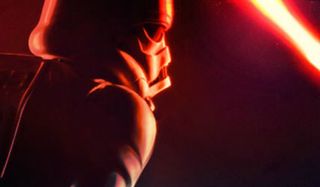 It's not uncommon for specific movie-themed toy paraphernalia to divulge secrets of their adjacent films. All those Marvel LEGO pieces, for instance, tend to drop before the films come out, with various sets depicting spoiler-y scenes. But did a new Star Wars figure just inadvertently solve one of the biggest mysterious of the upcoming Episode VII? Be wary of spoilers…
(Click the image to see a larger version.)
The folks at Sideshow Collectibles (opens in new tab) have a lot of figures coming down the pipeline, from Black Cat to Aquaman to Darkseid and more. But as HitFix has pointed out, there's a particularly interesting Stormtrooper statue that's being released as part of the Star Wars Ralph McQuarrie Artist Series. Why is it so interesting? It's clutching a lightsaber! A Jedi blue lightsaber! And he's facing down two shadowed figures shooting Imperial weapons!
For those of us who've practically memorized the Star Wars: Episode 7 trailer, the first thing that pops to mind is John Boyega. Though plot details are sufficiently under wraps until further notice, we know that the actor's character is named Finn, and he's shown in the trailer as a helmet-less Stormtrooper on the run on a desert planet (that may or may not be Tatooine). We had been under the impression for some time that Boyega was one of the good guys in this film, which made this teaser footage perplexing. But now puzzle pieces may be all starting to fall into place. Something else to point out, though, is that the helmet on this Trooper does not match up with the ones seen in the trailer. Now, perhaps Finn switches helmets at one point or another - but he is presumed to be that shorter soldier seen standing in line with all the others.
Of course, this is all just pure speculation until we can muster up, say, a measly synopsis from J.J. Abrams and co. Boyega's Star Wars co-star Oscar Isaac, has said that all the fan theories he has seen making the rounds online are totally off the mark, though, this Stormtrooper is a newer development. Sideshow is promising their little guy will be available to pre-order soon, and we could all benefit from a closer look.
Accompanying Boyega and Isaac on this new adventure are franchise newcomers Daisy Ridley as Rey, Adam Driver (could he be the hooded Sith Kylo Ren from the trailer?), Max von Sydow, Dohmnall Gleeson, Andy Serkis (who voiced the trailer), Lupita Nyong'o, Gwendoline Christie, Crystal Clarke and Pip Andersen. It has also been revealed that Iko Uwais, Yayan Ruhian and Cecep Arif Rahman - all of whom wowed us with their martial arts skills in The Raid 2 - filmed scenes for Episode 7 when no one was looking. And, of course, we'll also be seeing the return of Star Wars mainstays Harrison Ford (Han Solo), Carrie Fisher (Princess Leia), Mark Hamill (Luke Skywalker), Peter Mayhew (Chewbacca), Kenny Baker (R2-D2) and Anthony Daniels (C-3PO).
Star Wars: The Force Awakens will be in theaters on December 18th.
Your Daily Blend of Entertainment News
Thank you for signing up to CinemaBlend. You will receive a verification email shortly.
There was a problem. Please refresh the page and try again.