Wait, X-Men: Apocalypse Is The Worst Rated X-Men Film In The Line Up?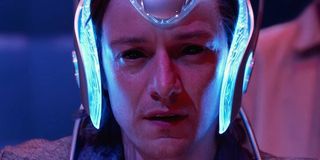 So far in 2016, we've seen the very best and the very worst of what the superhero genre has to offer. For every Deadpool that exceeded our expectations, we received a Batman V Superman, which failed to live up to them. The next major comic book movie to hit theaters will be Bryan Singer's X-Men: Apocalypse, which has already proven itself to be something of an oddity. Although the mutant adventure hasn't hit theaters yet, early critical reception has already marked it as one of the worst movies within the X-Men continuity.
The reviews have finally come in, and they don't exactly bode well for X-Men: Apocalypse at all. Rotten Tomatoes has compiled a list of every single film within the proper X-Men canon, and it seems that Apocalypse has the worst rating of the bunch, coming in at 52% Rotten. We know what your thinking right now, and as it turns out, X-Men: The Last Stand – often considered the worst X-Men film – is also labelled Rotten, but it holds a better overall percentage of 58%.
Of course, there is one very important caveat to this whole story. Although X-Men: Apocalypse has an incredibly low rating on Rotten Tomatoes, it's only the lowest of the proper X-Men films. X-Men Origins: Wolverine still holds the title of worst rated movie of the entire X-Men cinematic universe with an abysmal 38% Rotten rating.
Without getting into spoiler territory, I should note that it seems incredibly odd that Apocalypse has such a low rating among its X-Men contemporaries. It's definitely not quite at the quality of Days of Future Past or X2, but it is undeniably a better movie than The Last Stand, and probably doesn't deserve such a low rating. The only reasonable explanation I can come up with is the fact that expectations for Apocalypse were much higher than The Last Stand, and when the film failed to live up to those expectations it ultimately found itself slammed by critics. In the end, many people don't even abide by what critics say about a given film. Will you be part of the crowd who goes to see X-Men: Apocalypse this weekend, or will you heed the warnings of critics and wait for the DVD?
We will keep you posted regarding X-Men: Apocalypse's already incredibly odd opening weekend; the film will hit theaters later this week on May 27.
Originally from Connecticut, Conner grew up in San Diego and graduated from Chapman University in 2014. He now lives in Los Angeles working in and around the entertainment industry and can mostly be found binging horror movies and chugging coffee.
Your Daily Blend of Entertainment News
Thank you for signing up to CinemaBlend. You will receive a verification email shortly.
There was a problem. Please refresh the page and try again.