The Walk's IMAX Numbers Are Shockingly Bad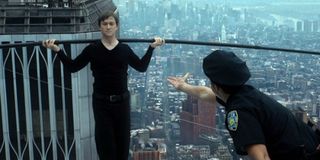 Robert Zemeckis' The Walk seems perfect for IMAX screenings. The film stars Joseph Gordon-Levitt as high-wire daredevil Philippe Petit who walked across the Twin Towers in NYC. After premiering at the NYFF, The Walk opened in various locations, including exclusive runs in IMAX formats — which were said to be making people vomit over the anxiety-inducing scope. Unfortunately for Sony, the studio releasing the film, a relatively small number of people are going to see The Walk in IMAX.
According to The Hollywood Reporter, The Walk opened in 448 IMAX and premium large-format theaters over the October 2 weekend, but these screenings only yielded $1.6 million. To put that in perspective, the live transmission of the Metropolitan Opera's performance of Il Travatore on October 3 surpassed this number. With The Walk opening wide this weekend beginning October 9, the trade notes that this means the studio has to now pay for the promotion of two major openings over the course of back-to-back weekends.
Petit's story has been told in book form, with Colum McCann's Let the Great World Spin and Petit's own memoir Man on Wire, the latter of which was adapted into the documentary of the same name. Zemeckis and Levitt give this story new life with The Walk, which takes advantage of the available large-screen formats. Many critics point to the duller first half, though the second half is well worth your time and money — some have even suggested seeing the film in IMAX or not at all. In addition to Levitt, the film also features Charlotte Le Bon, Ben Kingsley, James Badge Dale, and Ben Schwatze.
Watch the IMAX trailer below.
But why aren't people buying this story — at least, in IMAX? MKM analyst Eric Handler told THR that The Walk is a niche film and it does not fit into IMAX's typical offerings. However, it might not be entirely about The Walk and it reception, but rather an issue with the strategy over the early IMAX release. Everest, which features a star-studded cast including Jake Gyllenhaal and Josh Brolin, did far better than The Walk in this format (with $7.2 million), but it didn't prompt more audiences to go see it when the film released wide. As Handler notes, the whole point of the early IMAX offering is to drum up word of mouth, which worked for something like Mission: Impossible - Rogue Nation, but even that could have been attributed to its franchise momentum.
We'll have to see how The Walk fairs as it enters more theaters this weekend, but so far, these early numbers predict Robert Zemeckis and Joseph Gordon-Levitt might be in for a wobbly ride.
Your Daily Blend of Entertainment News
Thank you for signing up to CinemaBlend. You will receive a verification email shortly.
There was a problem. Please refresh the page and try again.