This Walking Dead Star Just Scored Her First Major Film Deal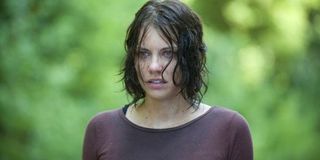 It looks like Lauren Cohan could be taking a much-needed respite from the world of shamblings, sickness and psychopaths on The Walking Dead to tangle with creepy demonic dolls. The actress has recently signed on to star in an upcoming horror thriller film called The Boy.
According to The Hollywood Reporter, Cohan will play the film's central character, a nanny who has been brought on board to oversee a "lifelike doll by a bizarre couple who treat it as a real child." The couple may be pitiable and traumatized by the recent death of their young son. However, Cohan's nanny character begins to believe that the freaky killer Cabbage Patch is ALIVE!
Occupying the director's chair, will be William Brent Bell, known recently for 2012 exorcism film, The Devil Inside and the 2013 horror thriller, Wer. Set to begin shooting in March in British Columbia, the project's original title of "The Inhabitant" might be a clue to the film's plot, but clearly we're in store for a freaky thriller that will tug on the anxiety that a lot of us have about creepy little soulless child dolls that look made to murder you and turn that proverbial amplifier knob up to 11. (Because it's one higher.)
Known primarily as a television actress, Cohan has a few film roles on her CV, even making her acting debut with a small role in the late Heath Ledger's 2005 post-Brokeback Mountain testosterone-laced image reform, Casanova. However, besides the TV ratings juggernaut The Walking Dead, her most memorable roles have been stints on Supernatural, Chuck and The Vampire Diaries in which her femme fatale fighting spirit has been on full display. The Boy will be her first go as the proper lead of a major motion picture, which begs the question: Should her TWD character, sassy farm-girl-turned zombie-hunter, Maggie Greene have something to worry about?
Warning: The most minor of TWD spoiler discussion ahead.
While Cohan's Maggie is still very much alive and kicking in the The Walking Dead comic book series, the TV adaptation has proven that such an idea is practically meaningless to characters' safety. Characters who are dead on the show are still alive in the comic book and vice-versa. It may seem overly speculative to presume that Lauren Cohan taking a movie while still attached to TWD is a sign of things to come on the show. However, it is worth noting (just as the THR report has) that, unlike other popular television vehicles like Game of Thrones (which just gave the X-Men its new Jean Grey), The Walking Dead, for all its phenomenal success, has not exactly been a launching pad for actors moving on to the big screen. Cohan breaking that pattern could simply be a sign of the continuing evolution of the show's success, or…well.
The Boy has no release date as of yet, but you can see Lauren Cohan and the rest of the zombie-shiving posse when The Walking Dead returns from its mid-season hiatus on February 8 on AMC.
Your Daily Blend of Entertainment News