Walt Disney Studios Live-Action Presentation D23 2013 Live Blog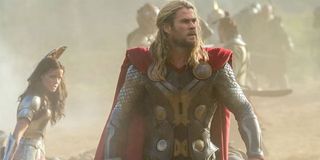 Yesterday was a big day for Walt Disney Studios' upcoming slate of animated features. The first half of the day in the Anaheim Convention Center's main arena was entirely dedicated to the "Art and Imagination: Animation at the Walt Disney Studios" presentation, an event that saw John Lasseter take the stage to show off what Pixar, Walt Disney Animation Studios, and DisneyToon Studios has in store for us in the next couple years. But today it's the studio's live action projects that will be getting the spotlight.
Walt Disney Studios has many exciting and anticipated titles in the pipeline for us, and have promised that we will be getting an exclusive sneak peek at Saving Mr. Banks, Thor: The Dark World, Muppets Most Wanted, Captain America: The Winter Soldier, Maleficent and Tomorrowland. But what kind of surprises do they have in store? What announcements are they going to make? Keep up with our live blog below and find out!
10:30: The panel is starting! We're kicking things off with a video montage of everything that Disney has coming up.
10:31: Chairman of Walt Disney Studios Alan Horn arrives on stage to talk about how impressed he was with the reaction to yesterday's animation presentation and the passion of the fans at the event.
10:35: Horn says that he didn't think that the transition from Warner Bros. to Disney would be that hard because he was just going from Bunny to Mouse… but it turned out to be much more special. He says that Disney is the greatest company on Earth, and that the same values that our parents teach us are the same values that Disney teaches us.
10:37: He is now introducing the various companies under the Disney label, including Pixar, Marvel and LucasFilm (all of which get a huge applause). He has gone to each one and says that the first is like a college campus and the second is more similar to Sparta, and that the third is just beautiful. They all do things a bit differently, but they are all part of the Disney family. Horn quotes Lassiter saying, "Quality is the best business plan."
10:42: Horn kicks things off with a big welcome to LucasFilm for joining the Disney family. He says he has worked with Katherine Kennedy for years and says that their biggest priority, of course, is Star Wars.
10:42: More than 35 years later he says to expect Star Wars Episode VII in the summer of 2015, plus they are also doing standalone films. There is a big applause for J.J. Abrams as he is announced as the director. Abrams has been working with Michael Ardnt on the script, John Williams is set to do the score. While Horn wants to say more, he says that there are "dark forces watching," which means that he can't really say much more.
10:46: Calling Marvel Studios a real "success story," Horn says that the studio has created something that nobody could have anticipated. There are over 7000 characters in the Marvel universe, which means that we can expect 6994 more movies. And now Marvel President Kevin Feige is coming out on stage!
10:47: Feige recalls premiering the first ever footage from The Avengers at D23 two years ago. But now it's time to look forward to Phase Two. He introduces Thor: The Dark World, and while announcing the whole cast everybody gets huge applause (but especially Tom Hiddleston and Zachery Levi). And now time for some footage!
10:54: The footage was the same that was shown at San Diego Comic-Con, but still looks just as awesome. Tom Hiddleston now out on stage!
10:55: Hiddleston apologizes that he didn't show up in costume to this one – but says that he did bring some friends. Natalie Portman and Anthony Hopkins out on stage!
10:56: Natalie says that she is the fish out of water in this new film, dressed in sweats in Asgard while everyone else is in gowns. And now we see our first official clip from the movie!
10:59: The clip has Jane Foster lying on a table being examined by scientists in Asgard. Apparently she has some sort of fatal level of energy floating through her, and it's definitely scary. Odin wants to send her back to Midgard, but that may not be as easy as it seems…
11:00: And now it's Captain America: The Winter Soldier time! The Comic-Con footage is playing on the big screen!
11:05: Happy to once again say that the footage is just as good the second time around. March 2014 can't get here soon enough.
11:06: Sebastian Stan! Anthony Mackie! Chris Evans! On stage!
11:07: Stan says that Bucky might have fallen, but he crawled his way back and is ready to make some trouble for his best friend. Mackie is very happy to be the first live-action Falcon (even though he is wearing a pink shirt). Evans says that he is getting used to the world the way it is now, and while there's not that much confusion about modern technology, he does have a hard time figuring out what is right and wrong in the modern world.
11:09: Evans says that he was originally going to go to Disneyland this weekend… but then remembered that he kind of had to be at D23.
11:10: About to see some very new footage from the film. Apparently it's very unfinished, but they're showing it anyway!
11:14: Cap is on a jet with Black Widow and Brock Rumlow (Frank Grillo) and is about to go on a mission. He dives out of the jet to the ocean below (and as Brock points out, he's not wearing a chute). Cap climbs up the anchor and begins to take out all of the guards. It's an asskicking sequences and features some awesome action. Stay tuned for more details about the footage later!
11:15: Now it's Guardians of the Galaxy time!
11:16: And now we get to see the amazing Comic-Con footage again!
11:18: Guardians remains my most anticipated upcoming Marvel solo movie. Footage is just as amazing on the second go-round.
11:19: We close out the Marvel Studios part of the panel with the same Avengers: Age of Ultron teaser we saw last month.
11:20: Alan Horn is back on stage and says that watching Rocket Raccoon in the Guardians of the Galaxy footage reminded him of what they have in the works at Disney Nature. Quite the artful segue.
11:21: Now we get to see the first ever trailer for Bears, the new nature documentary that will be coming out next year on Earth Day.
11:24: Lots of baby bears in the video and plenty of coos from the audience.
11:25: Now it's time for the Disney live-action department's turn. President of live-action production Sean Bailey on stage!
11:26: We're starting with Muppets Most Wanted! Footage on the big screen!
11:29: Funny trailer with a lot of laughs. Looks like Danny Trejo is back after being cut out of the last film! In the movie Kermit is mistaken for an international criminal and they are forced to go on the run around Europe. Best scene has Ty Burrell and Sam The Eagle fighting over the sizes of their Interpol and CIA badges
11:30: Ty Burrell on stage, driving an extremely mini Interpol car!
11:31 Burrell says he grew up watching the Muppets, and that on the first day on set he actually had to be snapped back into reality multiple times. He also apologizes for his rough French accent. He is paired up with Sam The Eagle for most of the movie and they go head-to-head.
11:32 And now we're getting a live feed to the set of The Muppets Most Wanted! Miss Piggy up on the big screen. She's sorry that she couldn't be here, but knows that we're all excited because she's in the movie. And now she's joined by Tina Fey and Kermit the Frog! Kermit and Fey are wearing P23 shirts, as Miss Piggy apparently thought that this was an expo to celebrate her, not Disney.
11:34 Now it's time for a scene from the movie!
11:39 The scene has all of the Muppets in Europe about to go on stage when they are approached by Ricky Gervais' character. Constantine, the international criminal who looks exactly like Kermit, is pretending to be Kermit, but speaks with a thick Russian accent that has everyone confused (Animal even goes as far as to bite him, calling him "Bad Frog). Everyone thinks that Constantine is Kermit, though, so his plan seems to be working. In the back room Constantine and Gervais talk about their plan to steal the crown jewels from England, and sing an awesome song about how Gervais' character will always be #2 to Constantine's #1.
11:40 Now it's time to talk Into The Woods! Rob Marshall is directing and the movie is a twist on the classic fairy tales. Meryl Streep is playing the Witch, Johnny Depp is playing the Big Bad Wolf, and Anna Kendrick, Chris Pine and Emily Blunt are all on-board as well.
11:42 Cinderella is also coming in March 2015, and they plan on sticking to the original story while also making it as an epic journey. Kenneth Branagh is directing the film – and while he couldn't be here, he's delivered some pre-production tests via satellite!
11:45 The concept art looks very pretty, showing off Cinderella's flowing blue dress, a sparkly pumpkin carriage. Lily James is playing the princess to be, Richard Madden is starring as Prince Charming, Cate Blanchett is playing the evil stepmother, Helena Bonham Carter is playing the Fairy Godmother. Branagh says that the movie is all about big reveals and having the power to take you into the world of a fairy tale. "Your dreams can come true!"
11:48 Speaking of fairy tales, it's now time to meet Maleficent! The movie is coming to theaters next July, and is based on the story of the classic Sleeping Beauty villain. Robert Stromberg is directing the film, Joe Roth (Oz The Great and Powerful) is producing, and Linda Woolverton (Beauty and the Beast, Lion King), is writing the script.
11:49 Sean Bailey says that their list of names of actresses for the titular role had only one name on it: Angelina Jolie. The movie will follow her life and see what led her to curse the young Princess Aurora (Elle Fanning).
11:50 The movie sees Malificent sees Aurora grow into "a spirited teenager," and could very well change who we cheer for in the story.
11:51 And now Angelina Jolie is coming to the stage!
11:52 Jolie says that she has been drawn to the character since she was a little girl. She was terrified by her, but wanted to know more about her. She had elegance and grace, but was also deliciously cruel. Jolie says that when the project was first announced she actually got a call from her brother telling her to go for the part. She loved getting into the horns for the first time.
11:53 Jolie says that having a director coming from the world of production design really helped pull her into the fairy tale world. The film is beautiful but also has a sexy, dark edge because the story is coming from the point of view of a villain.
11:54 Jolie says that she actually scared children while in costume on set, and that one actually said, "Mommy, please get the mean witch to stop talking to me."
11:55 She adds that her daughter played little Aurora, and was the only child who wasn't scared of her. Apparently she was the only kid actress who they could get that wasn't scared to be on set with her.
11:55 And now we're getting our first look at the film!
11:59 The clip begins with three fairies coming in to grant wishes for the new-born Princess Aurora. Unfortuantely, the ceremony is interrupted when Malificent shows up. Sharlto Copley, who plays the king, warns her that she is not welcome, but that doesn't stop the villain. She instead curses the child, saying ,"Before the sun sets on her 16th birthday and will fall into a sleep-like death woken only by true love's kiss." Very stylish and cool looking.
12:00 Featurette is now on the big screen talks about Walt Disney's life as a futurist, constantly playing with new technologies and wondering what the world could be like. Instead of just talking about it, he actually did it. There are shelves of ideas that are filled with ideas that never came to be. There's a place on the Disney lot called "The Morgue" where things are stored. In this room they found a box labeled simply "1952." This is a preview of Tomorrowland!
12:03 They couldn't figure out how the contents of the box could fit to a film project or something else completely. The people who found it met with writer Damon Lindelof and it inspired the creation of the new film. Brad Bird then came in and they started to talk about Tomorrowland. Brad sees the word as evoking play and freshness, creating something we haven't seen yet.
12:05 Sean Bailey says that George Clooney will play a brilliant inventor involved with the Tomorrowland project. Brad Bird is serving as a director, writer and producer, while Lindelof is serving as writer and producer. And now Bird and Lindelof are heading to the stage!
12:07 They don't have movie stars here, but they do have a big dusty box… and they're going to open it here!
12:08 First up is a photograph that was taken of Walt and Amelia Earhart, which is dated April 1945 – years after her disappearance. The source was actually two photographs, and that the photo is phony (they put Disney's head on Cary Grant's body). But why was the photo in the box? Why was it made? What if it was real?
12:09 There is also a 1928 issue of Amazing Stories, a very popular sci-fi magazine of the time.
12:10 There is also a piece of cardboard with holes cut into it. It appears to correspond to a certain page of the magazine, and if you leave it on top it reveals certain words "I have seen across the gap between. I began practical penetration into the world secrets retreats needed perfection of mechanical labor"
12:11 Now they're putting on gloves to look at some delicate pieces of parchment. They are the plans for a Small World ride that was presented at the 64 World's Fair. There are also some numbers for a black light frequency on the sheet, and they discovered that there is a blueprint for another structure underneath the visible layer. Is something going on below the Small World ride attraction?
12:14 Apparently at 2:00 today on the floor you will be able to see all of the contents of the box on the convention center floor!
12:15 Described as "the coolest thing in the box" is a disc with the name "A History of Tomorrow" and Walt's name. They took out the disc, but still couldn't figure out what it is. It looks like a thick piece of metal that has a lot of scratches. There is apparently data on the disc, though, that they were able to get off. The disc looks like it was produced in the early 60s and is a never before seen bit of animation. They are working to get it up to the quality level of what we can see… but they're going to show it to us anyway!
12:20 The animation talks about the progression that mankind has made over time, from caveman times through Egypt to the age of the world's fair. We see great inventors like Edison. Verne. and Tesla and the video talks about them all coming together to change the world and introduce us to a better tomorrow and create "a world of shining hope for mankind." What does it all mean? We'll just have to wait and find out!
12:21 And on the subject of Walt Disney, we now move to Saving Mr. Banks! Tom Hanks stars as Disney, Emma Thompson plays Marry Poppins writer P.L. Travers, and Jason Schwartzman, BJ Novak, Bradley Whitford, Colin Farrell, and Paul Giamatti co-star.
12:23 The movie tells the true story of how Disney tried to get Travers to let him make a film version of her classic story, but she didn't approve of animation sequences or silly songs that don't make any sense. And now we get to see a clip!
12:28 Travers arrives at Disney Studios in a car and is met by Bradley Whitford, B.J. Novak and Jason Schwartzman. Travers is very against the idea of making the movie, particularly as a musical. She just wants to be pointed in Walt's direction, and refuses to be toured around the studio – she just wants to leave. She even complains about taking a cart around the lot when she can walk. They get to Disney's office and sit in the waiting room – and Whitford warns Travers that Walt hates being called Mr. Disney. Walt then appears and is absolutely delighted to meet her (even though she calls him Mr. Disney). They go into her office to talk about the project. Travers never loses her cold edge even though Walt is being incredibly funny. Walt talks about his daughter giving him the Mary Poppins book and promising her that he would turn it into a movie. He has been trying to make the movie for the last 20 years, but Travers has never agreed. Walt wants to make both his daughters and kids everywhere happy. Travers is insistent that Mary Poppins doesn't sing – she is a governess and an educator. She won't be one of Walt's silly cartoons. Walt promises that he would never tarnish something he loves, and he loves Mary Poppins. He insists that Travers shares her with him.
12:31 Definitely a fun clip with a great dynamic between Hanks and Thompson. And now another clip, this time set at Disneyland!
12:35 The scene has Travers arriving at Disneyland for the first time, and once again she just seems epically displeased. Walt is loved by fans and signs autographs while also singing Travers' praises. He says hi to all of the people at the park as he takes Travers to go on a ride: namely a carousel. Travers reluctantly agrees to get on the ride. They talk shop as the ride is about to start, but then Walt reveals that he has actually brought her on for monetary gain, as he has made a $20 bet that he could get her to get on one ride at Disneyland. Big laughs from the audience
12:36 Now B.J. Novak and Jason Schwartzman are on stage! They talk about actually getting to meet Richard Sherman and how it was incredible to get to work with such a legend in the industry.
12:38 Schwartzman actually got to sit side-by-side with Sherman and had him both play his music while also explaining his process thinking about it. Apparently Sherman is also a "good winker."
12:39 Novak says that this is his first time singing in a role… and jokingly says that it will also be his last.
12:40 The presentation is now coming to an end, but we have one last look at Saving Mr. Banks!
12:41 Travers is working with Whitford, Schwarzman and Novak's characters on the script, and has nothing but complaints. She hates the idea of Dick Van Dyke in the movie and wants Laurence Olivier or Alec Guiness. They then start to sing the chimney sweep song from the movie, but Travers takes issue with the fact that the song has made up words. Schwartzman then slowly hides a piece of sheet music that reads "Supercalifragilisticexpialidocious."
12:43 Schwartzman and Novak come back on stage singing "Let's Go Fly A Kite!" And they've brought Richard Sherman with them! Dancers run around the crowd flying kites in the air and confetti explodes as the song ends.
12:45 That's a wrap on the live-action presentation!
NJ native who calls LA home; lives in a Dreamatorium. A decade-plus CinemaBlend veteran; endlessly enthusiastic about the career he's dreamt of since seventh grade.
Your Daily Blend of Entertainment News
Thank you for signing up to CinemaBlend. You will receive a verification email shortly.
There was a problem. Please refresh the page and try again.