Want To Know What Iron Man 3 Is About?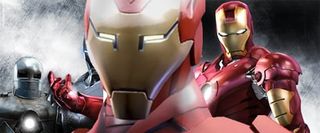 Hello Podcast Listeners!
It's me, Da7e, using the Operation Kino blog feature for my own gain, hoping to alert you to some super-nerdy, kind of spoilery reporting I did over the weekend for Latino-Review.com about the plot of Marvel's next franchise film, Iron Man 3 (with Robert Downey Jr, Gwyneth Paltrow and Don Cheadle already attached and Shane Black to direct).
Turns out, not only is there a hint as to the plot of Iron Man 3 in The Avengers (which fans of Marvel's post-credit scenes were probably expecting), but part of Tony Stark's motivations in Iron Man 3 actually take the form of a single line in The Avengers trailer.
Like comic books? Like movies? Like comic book movies? CLICK HERE and check out my Iron Man 3 video at Latino-Review.com. I will be ever-present in the comments section here and there to field reactions and answer questions.
EXTREME!
Your Daily Blend of Entertainment News
Thank you for signing up to CinemaBlend. You will receive a verification email shortly.
There was a problem. Please refresh the page and try again.