War Room Is The First Movie Since American Sniper To Pull This Off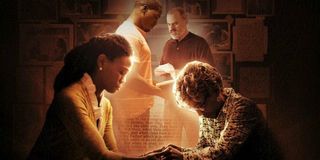 War Room is experiencing an unprecedented amount of success. The faith-based film from director Alex Kendrick came in second place at the box office this weekend just under Straight Outta Compton. It earned a whopping $11 million in revenue, even though it opened in a mere 1,135 locations. In another turn of events, War Room earned an A+ from CinemaScore, making the first film to receive such a rating since American Sniper earlier this year.
This achievement is pretty remarkable, yet unexpected. War Room was universally bashed by critics, who collectively gave the film an 18% rotten rating on movie review aggregator Rotten Tomatoes. But, according to Kendrick, he takes these criticisms with a smile and attributes the film's success to his dedicated, faithful audience. In an interview with The Hollywood Reporter about this success from left field, he said:
Apparently so.
For those who don't consider themselves part of War Room's audience, or know anything about it, the film focuses on the Jordans. Tony (T.C. Stallings) and Elizabeth (Priscilla C. Shirer) seem to have the perfect life on the outside, but behind closed doors their marriage is dwindling. Tony becomes increasingly distant and flirts with temptation, while Elizabeth doesn't know how to handle these growing issues. When she meets Miss Clara (Karen Abercrombie), a new real-estate client, she's advised to create a "war room," an isolated place where she forms a battle plan to pray to God.
According to Alex Kendrick, he and his co-writer and brother Stephen wanted to tell this story from an African-American perspective because, to them, the African-American church is "more passionate" and "visceral." They also checked in with the African-American community to further authenticate this story about prayer. Watch the trailer below.
War Room, which marks the fifth film from Alex and Stephen, is their highest-grossing work to date. They previous collaborated on Flywheel, Facing the Giants, Fireproof, and Courageous. Alex told THR that the pair plan on taking a break to spend time with their family and friends before working on their sixth effort.
Based on critical responses, the film comes off across as overly preachy for non-believers. However, this film, as Alex stated time and again, is not for the non-believers. You can bet that with such a small theatrical offering, it wasn't those folks flocking to the cinema.
Your Daily Blend of Entertainment News
Thank you for signing up to CinemaBlend. You will receive a verification email shortly.
There was a problem. Please refresh the page and try again.