Watch 1,500 People Film The Epic Opening Sequence For James Bond's Spectre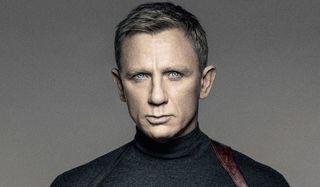 The return of Daniel Craig's martini-sipping super-spy, James Bond in this fall's Spectre will contain an especially thrilling opening sequence that should be more than befitting of the franchise's long tradition. In fact, a new official vlog highlights the Mexico City shoot's spectacular utilization of 1,500 extras for an action-packed Day of the Dead parade sequence. Be astounded by the sheer intricacy that's being put into just one scene in the video below!
As you can see, every conceivable element of this ambitious parade scene, from the impressively morbid floats to the unique costumes for the amazing array of extras, is meticulously approached. Conventional filmmaking practices for a scene with such grandiosity would simply call for the post-production CGI insertion of such a large number of people. However, the creative forces behind Spectre decided to forgo such an option, instead choosing a more authentic path with Mexican extras familiar with Day of the Dead practices. The result, is something that comes across as more authentic to the rich cultural heritage behind the festival; something that might have felt artificial with Bond chasing bad guys through a CGI crowd.
What you see in this brief scene is apparently the culmination of six months of planning and design work. Yet, the stunning scene was not exactly envisioned without the help of more practical incentives. The sequence in question was reportedly shaped, to a certain extent, by oddly random requests from the Mexican government on which tax breaks apparently hinged. The conditions seemed to carry the intent of portraying the country and its people in a positive light, with one of the specific requests being that this sequence in which Bond cases down a fleeing bad guy, Marco Sciarra (Alessandro Cremona) take place amongst a Mexican Day of the Dead backdrop.
However, as we can see from this behind-scenes-look at the massive operation, what was apparently conceived in the name of promotional nationalism from the Mexican government may have proven to be fantastically fortuitous, providing a vibrant, exotic opening for Spectre. The clearly detail-obsessed shoot represents a kind of filmmaking that's becoming increasingly rare, and returning Skyfall director Sam Mendes clearly has a more organic vision for the progress of the Bond franchise.
However, that old-school mentality could also represent what is reportedly an increasingly bloated budget. The information distributed from last year's hack attack on Sony revealed that the film was sporting a budget running around $300 million. Additionally, anecdotal insider reports also claim that elaborate practical scenes like the Day of the Dead parade could ramp that number up by as much as $50 million. While the last entry, 2012's Skyfall, made $1.1 billion at the box-office, success in the Bond franchise can sometimes be sporadic. Such an idea supplements the recent rumblings implying that Sony may not stay in the Bond business much longer, with the distribution rights soon set to expire.
Inside baseball issues aside, Spectre seems to be shaping up to be the most intriguing, action-packed Bond film, yet; introducing the modernized take of 007's traditional malevolent clandestine collective, SPECTRE. With a mysterious man occupying the head of the table named "Franz Oberhauser," creepily played by Christoph Waltz, who may or may not be Bond's iconic enemy, Ernst Stavro Blofeld, we're clearly in for tumultuous twists and turns. Daniel Craig's grittier, tortured Bond will likely be pushed to unprecedentedly dark places for the franchise when Spectre hits theaters on November 6.
Your Daily Blend of Entertainment News
Thank you for signing up to CinemaBlend. You will receive a verification email shortly.
There was a problem. Please refresh the page and try again.