Watch An Incredible Uptown Funk Video, Made Up Of Famous Movie Lines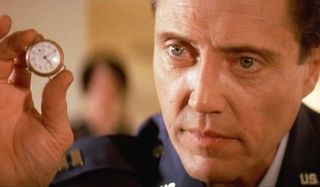 British producer Mark Ronson, with an assist from Bruno Mars, scored a hit with "Uptown Funk." And it's not just a hit, it's one of those songs that is absolutely freaking everywhere. Whether you're conscious of the fact or not, you've heard it in some capacity somewhere. It's already been parodied and lampooned, covered and remixed countless times, but what's one more. This new video takes lines of dialogue from films, lots of them, and recreates the pop song in its totality.
Watching this video from YouTube user dondrapersayswhat is impressive. This thing is not only meticulously edited, but also features in impressive array of movies, spanning damn near every genre and era you can think of. You've got lines, sometimes just single words, from 280 movies. Titles as diverse as Space Balls, Beetlejuice, and Leprechaun are all represented here, among 277 others from all walks of cinematic life.
All told, according to the video description on YouTube, "Uptown Funk Sung By The Movies" took three full months to construct. And when you watch how precisely cut together these various disparate clips are, in time with the up-tempo beat of the song, it's not hard to imagine it took that long.
And it's not just movies that get in on the act, as there are clips from Futurama as well, though I guess it could technically be from one of the Futurama "movies." It's possible that there are other TV shows in the mix as well, I didn't recognize everything. However, dondrapersayswhat gets some additional bonus points from me for using bits and pieces from a couple of personal favorites, especially 1986's skateboarding drama Thrashin' and 1985's updated kung fu classic Barry Gordy's The Last Dragon. I'd watch this video for those clips alone. Also, Napoleon Dynamite's sweet talent show dance fits perfectly in the instrumental break.
After it was released last November, "Uptown Funk" proceeded to spend 14 straight weeks in the number one position on Billboard's U.S. Hot 100 chart, and seven consecutive weeks on the top of the U.K. Singles Chart. Additionally, it topped charts around the globe, including Canada, Australia, New Zealand (it's big in former British colonies apparently), and other regions, and sold millions upon millions of copies.
The song has also been parodied by med students (among others), sung by none other than Lord Voldemort from Harry Potter, showed up in commercials and movie trailers, and generally leached into just about every last facet of the current popular culture. When Alvin and the Chipmunks: The Road Chip, which is a thing that's happening, hits theaters on December 23, you (I'm assuming you're all going to go opening day) will hear their version of the song, dubbed "Uptown Munk."
Your Daily Blend of Entertainment News
Thank you for signing up to CinemaBlend. You will receive a verification email shortly.
There was a problem. Please refresh the page and try again.