Watch Chris Pratt Hilariously Sing Karaoke With Jimmy Fallon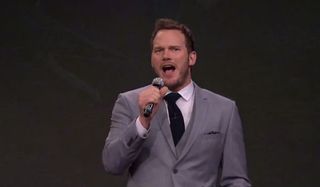 Just when you thought karaoke couldn't be funnier. Jurassic World star Chris Pratt and Jimmy Fallon treat us to a hilarious version of Nonsense Karaoke on NC's The Tonight Show. Take a look:
In the laugh-out-loud video, Chris Pratt—who is not famous for singing by the way—does his best to sing nonsensical versions of some well known songs alongside The Tonight Show host Jimmy Fallon. If you've never seen Nonsense Karaoke on The Tonight Show with Jimmy Fallon, you're in for quite a treat. The premise is that the lyrics to songs are replaced with odd and unusual sentences, basically nonsense in the words of Jimmy Fallon; hence the name Nonsense Karaoke. And with lyrics like "this one for them drunk squirrels," "whack a fat goose with a frying pan" and "gurgle spit into a tuba" you know you're not listening to any song that you've ever heard before.
The Guardians of the Galaxy star is first up to sing karaoke and he doesn't disappoint in the humor department. His song, "Uptown Funk" by Mark Ronson featuring Bruno Mars, the latter's name whom he immediately replaced with his own before the band began to play the song. The music starts and Pratt begins to dance, busting out moves you may have recalled seeing in a certain Guardians of the Galaxy movie that came out last year. For minute there, it almost seems as if he is trying to do some Michael Jackson moves, too. Then the funny part, Pratt starts to sing the Nonsense Karaoke lyrics from the teleprompter. He starts off with a distorted voice, not really sure who he was imitating there, but you have to admit it was hilarious. It doesn't help matters when Jimmy Fallon shows up to sing alongside the actor, providing him with singing backup. Oh, but they were just getting warmed up.
Next up, was Jimmy Fallon. The Tonight Show host had to sing Sam Smith's "Stay With Me." Audience members started to giggle before Fallon could sing his first word. Obviously, Fallon attempting the range of Sam Smith was going to be funny by itself, let alone the possibilities of lyric changes in Nonsense Karaoke. Jimmy killed his rendition as he sang words like "oh won't you, shave my knee" before ending the segment with a duet with the Parks and Recreation actor.
Chris Pratt's latest film, Jurassic World, hits theaters on June 12, 2015. Pratt is also slated to reprise his role as Peter Quill/Star-Lord in the sequel to the 2014 blockbuster Guardians of the Galaxy, set for release on July 28, 2017. Until then, you can check out these hysterical quotes from his amazing Reddit AMA.
Your Daily Blend of Entertainment News
Your Daily Blend of Entertainment News
Thank you for signing up to CinemaBlend. You will receive a verification email shortly.
There was a problem. Please refresh the page and try again.