Watch Angelina Jolie Crush Her Acting Class Way Back In The Day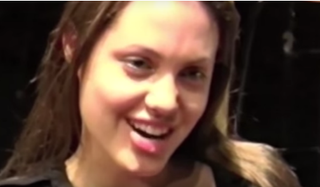 It's always interesting to see clips of actors and actresses before they made it big. There's usually something so pure and relatable about them that you can't help but feel entranced. You feel like a voyeur peeping into their past. If you just so happen to be someone who is into this kind of thing, then you will love the below video. Because it shows a young Angelina Jolie rather excelling in her acting class, held during her formative years.
According to the video, Angelina Jolie was around 25 years old when she filmed the above, and you can almost still see her working out the kinks of her talent opposite her classmate. It's amazing because, when she was 24-years-old old, Angelina Jolie starred in 1999's Girl, Interrupted,, and she looked and sounded drastically different to the above. Her ability had obviously been rather refined at the time, because she ended up winning the Academy Award for Best Supporting Actress as well as a Golden Globe Award and the Screen Actors Guild Award for her performance in the drama. Just check out the video below to compare.
In her acting class clip, Angelina Jolie showcases a wide range of emotions. As I mentioned before, there's no denying that her voice is a lot higher in the acting-class clip. Still, there's something oddly hypnotic about the future Mrs. Pitt's portrayal, as she weaves in these different emotions while still providing an intensity that doesn't fade as she makes an array of different face contortions.
After her performance in Girl, Interrupted got her recognized as the one of the most compelling young actresses in cinema, Jolie then followed it up with the likes of Gone In 60 Seconds and Lara Croft: Tomb Raider, the latter of which helped to turn her into a sultry icon. Since then, Jolie has forged out an eclectic career that continues to produce impressive results. Plus, she's now also a bona-fide director, something that she continues to improve on every time she steps behind the camera. Look for her (and her husband) in By the Sea, out later this year.
Your Daily Blend of Entertainment News
Thank you for signing up to CinemaBlend. You will receive a verification email shortly.
There was a problem. Please refresh the page and try again.