Watch This Badass Batman Vs. Green Arrow Mashup Trailer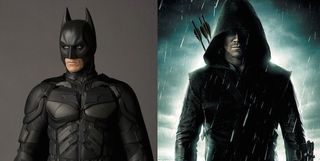 Batman and Green Arrow may not be joining forces on the big screen anytime soon, but now we have a better idea of what that might look like thanks to this amazing fan trailer. If you're a fan of the Christopher Nolan Batman films and the TV series Arrow, you're in for a treat!
Created by YouTube user ShadesAtKnight, Batman vs. Green Arrow shows what a team up between Christian Bale's Batman and Stephen Amell's Arrow might look like as a movie. In this story, the cinematic Ra's al Ghul is working with Arrow's Slade Wilson, a.k.a. Deathstroke. Oliver Queen heads to Gotham City to track down Deathstroke and soon draws the attention of Bruce Wayne. Ra's attempts to turn the two heroes on each other, but as is the case with most superhero team-ups, the vigilantes will likely overcome their differences and work together to defeat the villains. Other characters in this hypothetical story include the Dark Knight trilogy's Scarecrow and Arrow's Huntress. Because the video is done in a TV spot-style, there are also sneak peeks at fun "bonus features" included in the Blu-Ray release, like bloopers and making-of documentaries.
While DC Comics has created many famous superheroes over the decades, Batman and Green Arrow are their two primary non-powered crime fighters. As a result, they've teamed many times in the comics and several TV shows. However, the prospects of seeing the two together on film is unlikely to happen in the near future. Batman is heading back to the big screen in 2016 and will be joining the Justice League a year later, while Oliver Queen is sticking just to the small screen for now. However, if the DC Cinematic Universe ever expands its cast of characters, perhaps a cinematic Green Arrow will be introduced, meaning the Caped Crusader and Emerald Archer could one day really fight alongside each other, whether it's in the Justice League or just as a duo.
For now though, this trailer is the best we have at imagining such a live-action team up. Given how much Arrow has been influenced by the Dark Knight trilogy, specifically with its grounded tone, it's no surprise that these two versions of the heroes work so well together stylistically. Arrow also introduced its own version of Ra's al Ghul this season, although that character is implied to be more mystical than the Liam Neeson version.
If you're interested at a longer look at this faux-film, you can check out ShadesAtKnight's original theatrical Batman vs. Green Arrow trailer on the next page...
Connoisseur of Marvel, DC, Star Wars, John Wick, MonsterVerse and Doctor Who lore. He's aware he looks like Harry Potter and Clark Kent.
Your Daily Blend of Entertainment News
Thank you for signing up to CinemaBlend. You will receive a verification email shortly.
There was a problem. Please refresh the page and try again.