Watch This Basketball Bounce Through 24 Movies In Sweet Supercut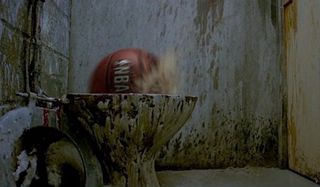 Sometimes you really do have to give the internet kudos, because if someone out there can simply make adding a bouncing basketball into 24 different movies enthralling, then the possibilities of the world wide web are endless. Do yourself a favour: take a seat, get comfortable and then click play on the video below, which is entitled 87 Bounces. It's mesmerising stuff.
What did I say? Am I right, or am I right? This rather delightful clip comes from the creative minds of HOTU, and after being uploaded just 2 days ago it has so far been watched close to 250,000 times. 87 Bounces' delightfully simple tagline is, "Today, Jean goes to the basketball court to try his brand new ball …" which just makes me fall in love with the short even more.
There's an aura of Wes Anderson wafting throughout 87 Bounces' opening 30 seconds. Not only is the camera placed perfectly over the bag that's holding the basketball, which is set to go round the world in 24 movies, but the Freddie Mercury want-to-be protagonist even has a devilish moustache that you know would be right at home in one of Anderson's pictures. After unzipping the bag the ball is greeted with a terrifying bolt of music, before we then see the character eye-up the court that he is about to dribble down. After setting off for the hoop he weaves his way past thin-air, showboats with a variety of dribbling skills and then finally takes his shot that zooms past the rim and board and straight to the feet of a Ray Liotta's Henry Hill in Martin Scorsese's seminal masterpiece Goodfellas.
But it doesn't stop there. Not in the slightest. The basketball then drops into Trainspotting's "The Worst Toilet In Scotland," before plopping into The Dude's latrine in The Big Lebowski, only to be manhandled by a henchmen of a porn kingpin that have violated his home, and then used by Spider-Man to take on Doctor Octopus in Spider-Man 2. It's then blasted into space, where it pervades the likes of Star Warsand causes Sandra Bullock and George Clooney to break-free from their space-shuttle in Gravity. Of course, then it drops through Batman Returns' Gotham night-sky and lands straight into the hoop that it had missed at the beginning. It's rather delightful viewing.
To stop people going mad, 87 Bounces even lists all of the film that feature. Either you can test your movie knowledge and try to guess them all yourself, or save some time and head over to Page Two for the full list... Goodfellas
Aviator
Once Upon A Time In The West
My Name Is Nobody
Flubber
The Shining
Trainspotting
The Big Lebowski
Anchorman 2: The Legend Continues
The Wolf Of Wall Street
Spiderman
Men in Black 3
La Tour Montparnasse Infernale
Man of Steel
Men in Black
The Mask
Kill Bill
Shaolin Soccer
Superman Returns
Star Wars Episode I
Gravity
2001: A Space Odyssey
Iron Man
Batman Returns
Your Daily Blend of Entertainment News