Watch Enter The Void Opening Credits: Tarantino's Pick As The Greatest Ever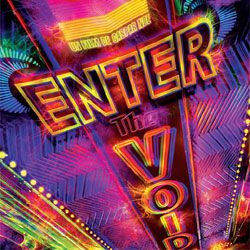 Yesterday in the process of announcing his favorite movies of 2010, filmmaker Quentin Tarantino had this to say about Enter the Void, which he ranked as the 10th best movie of the year:
Odds are you haven't seen Enter the Void, a drug thriller from Argentinean director Gasper Noe which only received a micro-sized release from IFC. The movie got solid if unspectacular reviews and often even those critics who liked it ended up describing their experience of sitting through it as "excruciating" while also calling it a technical masterpiece. Those who didn't like it generally settled on calling it "unwatchable". You're about to find out why.
The opening title sequence so loved by Quentin Tarantino has been floating around the internet for awhile now. I missed seeing it in theaters, but word is that it has a much bigger effect in a large screen format. For better or worse though, the Enter the Void opening credits sequence is embedded below. Watch it to find out what he's talking about:
I suppose it's amusing that they've gone through the trouble to dedicate whole pages of the film's lengthy two and a half minute opening sequence to crediting such people as the production's "flame artist" and the girls who showed up on set and played strippers. But unless Quentin Tarantino is a big fan of the band "Throbbing Gristle" whom Enter the Void credits as the minds behind "Hamburger Lady" personally I don't see what so many have been so enamored with here.
Maybe Tarantino likes the idea that the credits might give people seizures or perhaps he's simply being Quentin Tarantino, and that means giving his stamp of approval to just about anything which uses Japanese characters somewhere in it. To me it's kind of like watching the opening credits to Monty Python and the Holy Grail, only without all the Moose jokes.
Enter the Void's trailer worked in a similarly strobe-light inspired fashion. Here's a taste of that in case you're considering picking up the film as a way of reliving your last experience with harsh hallucinogenic:
What do you think of the credits sequence? Is Tarantino right? Let us know in the comments below.
Your Daily Blend of Entertainment News