Watch Everything Wrong With Mad Max: Fury Road In One Video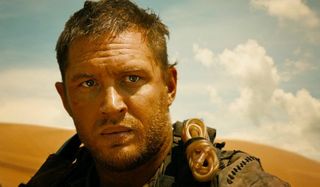 During this past summer blockbuster season, Mad Max: Fury Road made a serious impression on moviegoers. From it's commitment to relying on practical effects, to Charlize Theron's pitch perfect portrayal of Furiosa, to George Miller's brilliant construction of the apocalyptic wasteland, there are simply too many great things to say about the film. That does not mean it is not without sin, and a video has been released to showcase said sins. Check it out below.
Released by popular YouTube channel CinemaSins – which tells you everything you need to know about them – the video catalogues 96 sins committed by Fury Road. These range from Tom Hardy mumbling like Bane, to a lack of explanation for some of the more absurd elements – of which there are many. Despite the tallying of sins, the channel has a clear and readily apparent love for the film, readily acknowledging that it is one of the best releases by a major studio in a long time. They even go so far as to remove several sins just for some of the amazing action sequences. It all serves as an incredibly thinly veiled love note to Miller's modern take on Max Rockatansky.
However, it is not perfect. Although they spend most of the video giving credit where credit is due, CinemaSins does acknowledge that Fury Road has some issues with regards to things like editing and the use of Deus Ex Machina to save certain characters – even if they are still killed in the end.
Such sheer success of Fury Road was unexpected this summer. In an era defined by franchises with strict continuities and shared universes, Mad Max: Fury Road set itself apart by using ambiguity to create a completely standalone film in a franchise. Such a practice allowed fans to look for Easter eggs and create their own theories about the universe, without the requirement of having seen any previous Mad Max movies. It's no wonder rumors have swirled – despite lack of confirmation – that George Miller may possibly take the helm of Man of Steel 2: he knows his way around bombastic yet coherent action.
So if you're a fan of Fury Road and have yet to watch the video, definitely give it a look. If you did not enjoy Fury Road, watch the video and revel in its problems. If you have yet to see Fury Road, first watch that and then similarly give the video a watch. Basically just watch Fury Road, because it is totally worth it.
Originally from Connecticut, Conner grew up in San Diego and graduated from Chapman University in 2014. He now lives in Los Angeles working in and around the entertainment industry and can mostly be found binging horror movies and chugging coffee.
Your Daily Blend of Entertainment News
Thank you for signing up to CinemaBlend. You will receive a verification email shortly.
There was a problem. Please refresh the page and try again.