Watch Will Ferrell's Abe Lincoln Cameo In The Goods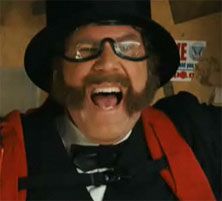 Will Ferrell is one of the producers on Jeremy Piven's upcoming used car salesman comedy The Goods: Live Hard, Sell Hard. So of course that means an awesome Will Ferrell cameo. Maybe his most recent solo projects haven't exactly panned out, but Ferrell is still king of the one off, completely random, momentary movie appearance.
In The Goods: Live Hard, Sell Hard he shows up as skydiving Abe Lincoln, and his entire scene is already online. Watch Will fly with dildos while contemplating his Kool-Aid Man back tattoo in the following video:
In The Goods Jeremy Piven plays Don Ready, a used car salesman asked to help save an ailing local car dealership from bankruptcy, Ready and his ragtag crew descend on the town of Temecula like a pack of coyotes on a basket full of burgers. Selling, drinking, selling and going to strip clubs is their stock and trade. And they do it well. What Don doesn't expect is to fall in love and find his soul (cue heartfelt piano).
Your Daily Blend of Entertainment News