Watch First Trailer For Nicolas Cage's 'Rage,' Which Is Definitely Not 'Stolen'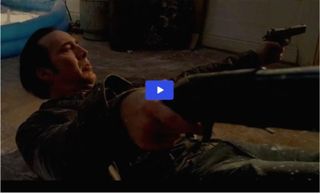 There's a sort of existential accuracy to the latest downmarket Nicolas Cage movie being called Rage. As the trailer emphasizes, this is Nicolas Cage at his Cagiest, doing the whole wearied-dad, ex-criminal, man-on-a-hunt thing he's succeeded with many times before, as recently as this year. Really, this is Nicolas Cage Mad-Libs. Let's play with this.
-Nicolas Cage is an ex-con (Stolen).
-Nicolas Cage's daughter has been tooken! (Stolen).
-Nicolas Cage has to consult with his seedy former co-workers (Stolen) in order to beat a ticking clock (Stolen) and save his young daughter (Stolen).
Wait a second, Nicolas Cage. You just did Stolen again! Did you think we wouldn't notice??
Like Cage's punchless Seeking Justice (which was once The Hungry Rabbit Jumps), this is another film that originally went under a more unusual title, in this case the probably-unmarketable Tokarev. It's not clear how audiences who wouldn't acknowledge Tokarev would even spot a title as generic as Rage, but, oh well. Fury was already taken. As was, ahem, Taken.
This is at least under the leadership of director Paco Cabezas, a Spanish-language filmmaker whom Cage likes so much he's enlisted for one of his next films, Men With No Fear. Cabezas directed the gonzo Neon Flesh, about a group of thugs who open a seedy brothel. Catch the trailer below, though it's a bit NSFW. A glimpse will show that the guy's got vision and style, if not exactly... taste?
Of course Rage looks a bit more pedestrian than that film, with Cage spouting trailer-ready lines like, "I'm out of the game! You know that!" It very much seems like Cage got right back on the line and waited until they handed him another Taken, no one realizing he's done Stolen. Special set of skills to jump back in line like that.
There's also Danny Glover and Rachel Nichols aboard, punching that character-actor clock. There's also the new Jem Aubrey Peeples, playing Cage's daughter. And keep your eyes peeled for a probably scenery-chewing Peter Stormare firing a gun from a wheelchair. I don't have the stats on this, but it's probably unsafe for someone in a wheelchair to fire a gun. Something about recoil, and wheels, and rubber. Rage is slated for a release on-demand June 10th, so you can Rage in your cage with Cage from the safety of your couch. And if you want to turn the movie theater into your cage, you can Rage with Cage in theaters on July 11th.
Your Daily Blend of Entertainment News
Thank you for signing up to CinemaBlend. You will receive a verification email shortly.
There was a problem. Please refresh the page and try again.