Watch The Furious 7 Team Talk About Moving On From Paul Walker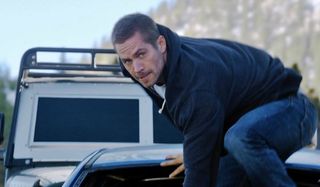 James Wan's Furious 7 started the blockbuster season off in style just a few short months ago, as it ultimately went on to haul in $1.5 billion at the box office. However, it was a phenomenon tinged with some sadness, as one of its leading men, Paul Walker, tragically died half-way through the production of the movie. The Fast & Furious family have repeatedly talked about just how emotional it was to continue without their brethren, and it's a sentiment that has continued to be discussed now that the film is being released on Blu-ray and DVD, with the team admitting that they were only able to move on by continuing with the production:
Emotional times. As the film's writer and producer Chris Morgan explains, those involved in Furious 7 were constantly asking themselves, 'What Paul Walker would have wanted' - while they also knew that they would have wanted him to finish it.
As hinted at in this video from Entertainment Weekly, the emotion of Paul Walker's death runs throughout Furious 7, as the film's climatic scene paid tribute to the actor, who has appeared in each of every one of the Furious franchise's previous installments.
Furious 7 handled the loss and death of Paul Walker in fine fashion. Just to warn you, there are definitely some SPOILERS ahead. So those of you that haven't been wowed by Furious 7 might not want to read on.
Rather than simply killing off Paul Walker's Brian O'Conner, and using the death of his character to instigate the third-act, Furious 7 went above and beyond to make sure that Brian stayed with the posse until the bitter end – even giving him a happy send-off. This effort included using Cody and Caleb Walker, Paul's younger brothers, as stand-ins to complete the shooting of his scenes, as well as some nifty CGI too.
This gave Furious 7 a heart-warming conclusion, and helped to make this instalment the most critically-acclaimed addition to the franchise. Plus, fans went in their droves to pay their final respects to Paul Walker, which helped to make Furious 7 become the fifth-highest-grossing film of all time.
Because of this success, Universal Pictures have confirmed that Furious 8 will now follow, and it is currently touted for an April 14, 2017 release date. There's no news on who will be re-joining Vin Diesel for the film, but you can expect the usual suspects of Michelle Rodriguez, Dwayne Johnson, Tyrese Gibson, Chris Bridges, and probably Kurt Russell and Nathalie Emmanuel to join in the fun again. Especially since enticingly it's going to be set in New York.
Your Daily Blend of Entertainment News
Thank you for signing up to CinemaBlend. You will receive a verification email shortly.
There was a problem. Please refresh the page and try again.