Watch Jennifer Lawrence's Arduous, Naked Makeup Process For X-Men: First Class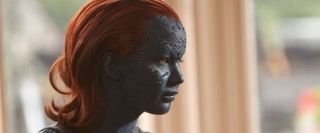 Jennifer Lawrence is an up-and-coming star who was handed a huge opportunity when she was cast as Mystique in X-Men: First Class. Sure, she was already well on her way to earning an Oscar nomination for her work in Winter's Bone, but playing an iconic, hot superhero in the latest installment of an iconic superhero franchise is a rare kind of career boost. So even though Lawrence had to go through the torturous process of putting on the blue Mystique body paint and makeup, it's not really a surprise to see that she handled it with good cheer-- after all, who knows how many people would kill to take her place.
In this behind-the-scenes video, you can see the team of six women who spent six hours preparing Lawrence for the camera every day she had to appear as Mystique in her "natural" blue form. In addition to the marvel of watching a normal human transformed convincingly into a mutant, there are some neat behind-the-scenes details in there, including the fact that they didn't have any of the same makeup artists who worked on the first three X-Men movies, meaning they basically had to start over again from scratch but still mimic how Rebecca Romijn looked in the previous films. Take a look at the two and a half minute video below:
I don't entirely believe Lawrence when she says the atmosphere in the makeup room is like a slumber party-- that's a hell of a lot of work, and they all know it-- but she's very good at putting a positive spin on what must have been an arduous process. Look forward to similar behind the scenes interviews about her bow and arrow training, or whatever else they put her through, when The Hunger Games rolls around on DVD sometime next year. This behind-the-scenes featurette, along with much much more, will be available on the X-Men: First Class DVD and Blu-Ray that hits shelves September 9 (opens in new tab).
Staff Writer at CinemaBlend
Your Daily Blend of Entertainment News
Thank you for signing up to CinemaBlend. You will receive a verification email shortly.
There was a problem. Please refresh the page and try again.