Watch Kristen Stewart And Jesse Eisenberg Mock Awkward Junket Interviews For American Ultra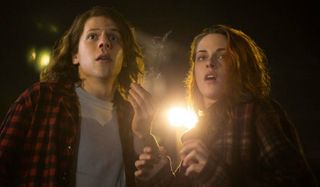 Have you seen the interview where Robert Downey Jr. walks out of the room? What about the one where Cara Delevingne deals with the hosts of a morning show? Or the one where Michael B. Jordan and Kate Mara are asked racist and misogynistic questions about Fantastic Four? Needless to say, we've been hearing a lot about these awkward celebrity interviews, but now Jessie Eisenberg and Kristen Stewart are having some fun with it. Watch it below.
The American Ultra co-stars teamed up with Funny or Die to promote their movie in a funny and timely sort of way. They sit down to interview each other in a junket-style scenario, but to make things awkward, Kristen Stewart asks Jesse Eisenberg all the inappropriate questions female celebs are often times asked by interviewers. You know, the kinds of questions that pertain to their boobs, their nails, any beauty regimes they used to maintain their youthful glow, their relationships and potential pregnancies — aka, the usual fare.
Eisenberg, as a man, doesn't know how to handle these questions because, as a man, he's normally asked whether he was the class clown of his school, what sports teams he likes, if he's always been funny, if he can do any impressions, and the like. Stewart brings it all home with her uninterested and almost combative responses to some of these lighter questions directed at her. "Oh no, I'm not gonna do any [impressions] for you," she says.
The most real-world case of such awkward interviews came when Jamie Bell, Michael B. Jordan and Kate Mara spoke with a radio station. The interviewer brought up the racial difference between Johnny and Sue Storm, asking, "Am I missing something?" He then turned the tables to focus on Mara's haircut, which he couldn't seem to let go, before commenting on her toes. If you have some time to watch the uncomfortable interaction, check it out below.
Just to reiterate — because, you know, there are still people in the world who mistake Click Hole and Onion articles for actual news stories — the back-and-forth between Eisenberg and K-Stew is all in good fun to promote American Ultra. Eisenberg plays Mike, your classic stoner who works in a small town. His only aspiration is to marry his live-in girlfriend Phoebe, played by Stewart. But there's a small hiccup preventing him from doing so: as it turns out, Mike is a sleeper agent. Amid his high hijinks, his killer instincts have awakened, and he's drawn into a government mission. It's Pineapple Express meets Jason Bourne.
American Ultra is directed by Nima Nourizadeh, is written by Chronicle's Max Landis, and hits theaters on August 21.
Your Daily Blend of Entertainment News
Thank you for signing up to CinemaBlend. You will receive a verification email shortly.
There was a problem. Please refresh the page and try again.