Red-Band American Ultra Trailer Is Explosive, Funny And NSFW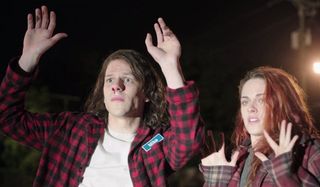 Jessie Eisenberg is a stoned-cold killer in the first American Ultra trailer -- emphasis on the stoned. If you thought Seth Rogen and James Franco made the perfect stoner movie duo in Pineapple Express, just wait until you get a load of Eisenberg and Kristen Stewart in what likely will be your new favorite stoner-comedy-action extravaganza. Watch the red-band trailer below and be mindful of naughty words and NSFW content.
Yahoo Movies debuted the American Ultra trailer and it looks like a fun and wild ride. Eisenberg plays Mike Howell. On the surface, he may seem like your average convenience store counter clerk who gets stoned all the time, but in reality he's a sleeper agent for the government. There's just rarely a moment when he's not baked off his ass, so he processes things -- including his activation and orders -- a bit more slow than other operatives. All he wants to do is propose to his girlfriend, Phoebe (Stewart), but that's when the government comes back into his life. After he kills a couple of agents trying to break into his car with a spoon -- "A fucking spoon?" Yes, Topher Grace, a fucking spoon -- his handlers want to put him down, and they'll even go through his future fiance to do it. Now he must fight with all the spoons he has in his arsenal, while trying to be as sober as possible, to battle bad agents and save the love of his life. Oh, and not get busted for all the weed and mushrooms he has stored in his car.
Aside from Jesse Eisenberg, Kristen Stewart and Topher Grace, American Ultra also features Connie Britton as a government operative and one of Mike's handlers, and John Leguizamo as Mike's friend who likes to drop acid and go to titty bars. Walton Goggins, Bill Pullman and Tony Hale also feature. Driving this drug-fueled ride is Project X director Nima Nourizadeh, while Max Landis of Chronicle wrote the screenplay. Though first impressions peg this as all laughs and gun-slinging, Nourizadeh says it'll mostly be about the relationship between Mike and Phoebe. As reported by /Film, he said that all the explosions and gunplay are really "softening" the "sweet love story" at the core of this film. We've never heard of such Michael Bay-esque theatrics as softening anything, but so far, American Ultra looks to have potential to be one of the comedic surprises of the year.
The film hits theaters on August 21, when it will compete against other releases of the weekend Hitman: Agent 47 and Sinister 2. Think this has what it takes to dominate the box office? Weigh in below!
Your Daily Blend of Entertainment News