Watch The Massive Power Of Scarlet Witch In New Avengers 2 Footage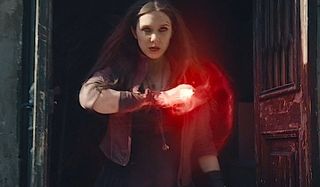 The blockbuster of the summer Avengers: Age of Ultron is almost upon us and with that said it's time to bring a little hype to Scarlet Witch. We've seen some small clips and a few stills of the goth-looking hex-artist/superhero (we never said mutant!) but now it's time to meet her. Check out the massive power displayed by Ms. Wanda Maximoff in the below "Super Siblings" featurette.
It's pretty clear from the above clip that Scarlet Witch, played by Elizabeth Olsen, and her twin brother Quicksilver/Pietro Maximoff (Aaron Taylor-Johnson) will both be forces to be reckoned with in Joss Whedon's upcoming Avengers 2. Visually, she is somewhat gothic looking, and is described on the inside as being connected and grounded with the universe. Let's be honest, though, it's her powers, which include telekinesis among other things, that will certainly make this character an influential player in the upcoming sequel. There is a good deal of footage in the above clip that shows her powerful and magic-inducing hands that are capable of massive destruction.
One interesting piece of information delivered in the above vid is Maria Hill's explanation of the twins' history, describing them as "orphaned at 10 when a shell collapsed their apartment building"—something that quite possibly could play a role in their combative relationship with the Avengers. If one thing is clear, it's that the pair will most certainly cause extensive difficulties for Cap and the gang, so much so that Olsen says her powers force the Avengers to take off somewhere before they return as a unit.
That said, there is likely going to be a good deal of shifting from the good side of things to the evil side, which would hold true to the characters' history in the source comics. And while Quicksilver can be seen duking it out with Hawkeye in the above clip, it seems to be suggested more than once that Scarlet Witch and Iron Man will have direct difficulties with one another. Here he is in the aftermath of what appears to be the work of her almighty magic powers.
We got some most awesome concept art of Scarlet Witch awhile back, learned a bit more about how the brother/sister pairing will get their powers a couple of months ago and most recently were treated to some pretty promising solo posters of the twins. With this latest vid, I think we're about ready to see what kind of damage the duo can do up on the big screen. Lucky for us we only have to wait slightly over a month to see how things will play out.
Marvel's Avengers: Age of Ultron hits theaters on May 1 so start getting pumped for what's sure to be the biggest, most explosive MCU film to date.
Your Daily Blend of Entertainment News