Watch Michael Keaton Put His Speech Back In His Pocket After Losing At The Oscars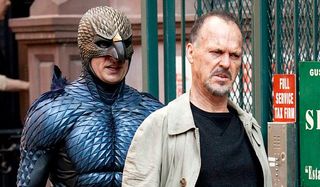 On Sunday, the Oscars turned out to be a pretty good night for just about any and all things related to Birdman. However, for Michael Keaton, the man who played the guy who played Birdman, the night was not quite so bountiful. The 63 year-old actor's improbable presence amongst the nominees for Best Actor seemed to be the inevitable culmination of the film's fourth-wall breaking, close-to-home story, but, unfortunately for him, The Theory of Everything star Eddie Redmayne ended up being the spoiler. This means that we will never get to hear the speech that Keaton prepared in case he took home the Oscar, but now thanks to a viral Vine, we can watch the moment when the actor unceremoniously pocketed the paper on which it was written.
Yes, much like someone left hanging after an attempt to garner a high-five goes ignored, Keaton's preparedness for this pivotal moment in his long career has set him up for some awkwardness. The moment captured shows Keaton during the standing ovation after Eddie Redmayne's victory was announced. However, you can clearly see that Keaton, probably expecting a repeat of his Golden Globes Best Actor win, had already taken his acceptance speech out of his pocket. A step out of his seat, he realizes what had just occurred, took the written speech in his hand and quickly stuffed it back into his coat pocket, where it would remain.
It was the last hope for Birdman to achieve any kind of performance win from the Academy, leaving it zero for three in nominations (with Edward Norton and Emma Stone nominated for Best Supporting Actor and Best Supporting Actress, respective). Of course, writer/director Alejandro González Iñárritu personally cleaned up with wins in Best Picture, Best Director, and Best Screenplay categories, and the movie also took home another prize for Best Cinematography. For Keaton, it was clearly an anti-climactic moment on a personal level, but he plays it off as cool as one could possibly expect.
The Best Actor Oscar loss of Michael Keaton is a rather fascinating issue. Birdman seemed to be one of those rare projects to come along that does its own strange job of mirroring real life. In this case, it followed an out-of-the-spotlight actor who used to don a lavish crime-fighting costume in his big-budget glory days who is desperately fighting for relevance; something that almost poetically matches Keaton's own career. His prospective Best Actor win would have fulfilled the kind of narrative that would benefit what was, by most accounts, a snoozer of a year for the awards show.
Birdman is a self-reflecting story about the industry and actors in general that seems to resemble the proverbial red meat that Hollywood types in the Academy go out of their way to revere, since it romanticizes their own profession and makes them feel important. Yet when the time came to craft "that moment" in which Michael Keaton's arc reached his own long-awaited zenith, the magic machine suddenly shut-down. Yes, it could simply be that the Academy thought that Eddie Redmayne gave the better performance, however, perhaps it was the air of inevitability that may have also led to the Oscar downfall for Keaton, and his handy speech.
Your Daily Blend of Entertainment News