Watch Mr Incredible Punch Catwoman In The Face On Hollywood Boulevard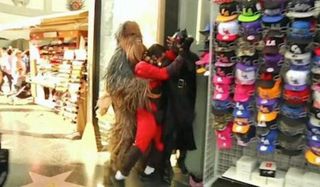 Footage of Mr Incredible punching Catwoman in the face has emerged. But rather than being one of the biggest cinematic tussles of the year it actually took place on Los Angeles' legendary Hollywood Boulevard and was watched by hundreds of passers-by in the area. You can check out footage of the assault below.
It doesn't make for pretty viewing, does it? Unfortunately the two costume characters who usually populate the hugely popular tourist area clearly partook in a rather heated debate before the scuffle broke out. Catwoman must have said something that Mr Incredible wasn't too fond of to provoke the attack. Maybe it was about Mrs Incredible/Elastigirl's rather curvaceous behind? I'm only speculating at this point but that seems like a topic that could result in Bob Parr erupting in rage.
Mr Incredible was able to get a few hefty punches in before two unlikely allies eventually broke up the fight. Star Wars' Chewbacca quickly left behind the Millennium Falcon to grapple the Pixar character while Where's Waldo's elusive titular protagonist also jumped in to assist his hairy partner in crime too. But just in case they were unable to bring the battle to an end, Freddy Kruger was hovering around the fringes of the scrap waiting to jump in. However despite being held back for a brief period, Mr Incredible was able to use his immense strength to break free and he then immediately tried to throw down a rain of punches on Catwoman again. He even managed to perform some kind of wrestling move on Catwoman that resulted in her falling face first onto the ground. Clearly the Mr Incredible that populates Hollywood Blvd. isn't chivalrous. Maybe someone should call up child-care to check on the rest of the Parr family. I'm not sure it's safe for them to be in a home with him.
But in a gesture that proves that anyone can be a superhero if they want to be, a civilian soon entered the fray and was able to fend Mr Incredible off. The man then shouted directly in Mr Incredible's face and one can only assume that he told him that it's rather un-gentlemanly to repeatedly hit a woman while in public. Actually hitting a woman in any location at any point is a big no-no. Ever since the incident took place Catwoman and Mr Incredible haven't been seen, and Los Angeles Police have now announced that they will provide a $100 reward to anyone that can provide any information on their true identities. Haven't they ever read a comic-book or seen a Pixar film? Gotham and the Parr household should be their first stops.
Your Daily Blend of Entertainment News