Watch Nightcrawler Battle Angel In The Newest X-Men: Apocalypse Footage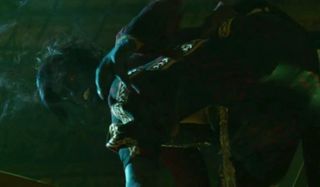 Thanks to the new timeline established in X-Men: Days of Future Past, X-Men: Apocalypse is introducing several fan-favorite mutants way earlier chronologically than when they were brought in during the original movies. Two of those include Kurt Wagner, a.k.a. Nightcrawler (played by Kodi Smit-McPhee) and Warren Worthington III, a.k.a Angel (played by Ben Hardy). Before those two duke it out on the battlefield, they'll be fighting in an intense cage match. Check it out!
The clip, originally posted on Jennifer Lawrence's Facebook page, begins with Mystique in her normal human guise infiltrating a sketchy club with their own cage arena, reminiscent of where we found Wolverine in 2000's X-Men. The box rolled into the cage is opened, and Nightcrawler is shoved out. He clearly doesn't want to fight, as he tries to teleport away, but is quickly shocked by the electrified cage. While Nightcrawler continues to avoid being struck by Angel's wings, Mystique finds the club's electrical grid, and after taking out the guard, overloads it to disable that fence.
A behind-the-scenes photo released last year showed that we'd get our first taste of X-Men: Apocalypse's Angel in the sketchy cage fight, and a few weeks ago, director Bryan Singer posted a photo of the winged mutant standing nearby a defeated Blob. Evidently after defeating him, Nightcrawler will be Angel's next opponent, but the fight won't finish, as Mystique will soon rescue Nightcrawler. We know she'll be successful with this because we saw in the last trailer that Kurt reacts in surprise to see Mystique outside the building, her fame secured following the events of X-Men: Days of Future Past. He is just the latest of many mutants she's spent the last 10 years saving.
From there, Nightcrawler go to Xavier's School for Gifted Youngsters and live among other young, troubled mutants. However, there's no word yet on if Mystique will remain Nightcrawler's mother in this continuity, especially since his father in the comics, Azazel, died shortly after the events of X-Men: First Class. As for Angel, he'll soon be discovered by Apocalypse and become one of his Four Horsemen, which comes with a free metal wing coating.
Nightcrawler made his cinematic debut in X2: X-Men United (played by Alan Cumming), where he was forced to serve William Stryker, but was eventually found by the X-Men and later assisted them with rescuing Professor X's students. Angel was introduced in X-Men: The Last Stand (played by Ben Foster), where he joined the X-Men after his father unveiled the mutant "cure." In X-Men: Apocalypse, their younger selves will be plucked from their regular lives and participate in the battle over Earth's fate, one with the X-Men, the other with Apocalypse.
X-Men: Apocalypse arrives in theaters on May 27.
Your Daily Blend of Entertainment News
Connoisseur of Marvel, DC, Star Wars, John Wick, MonsterVerse and Doctor Who lore. He's aware he looks like Harry Potter and Clark Kent.
Your Daily Blend of Entertainment News
Thank you for signing up to CinemaBlend. You will receive a verification email shortly.
There was a problem. Please refresh the page and try again.