Watch The Princess Bride Re-Imagined As A Horror Movie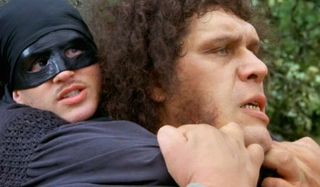 It's amazing what a bit of clever editing, some title cards, and a hint of slo-mo can do. In this recut trailer for The Princess Bride, these elements blend to turn a romantic fantasy that was fit for children of all ages into a horror movie in the vein of Single White Female or Dressed To Kill.
In 1987, Rob Reiner brought us The Princess Bride, an adaptation of a fairy tale penned by William Goldman. Robin Wright starred as Buttercup, a beautiful--if demanding--princess who'd won the eye of a loyal and dashing farmboy Westley (Cary Elwes). But their love was thwarted when the selfish and vile Prince Humperdink swept in and stole Buttercup away to be his own bride. Everyone knows that Westley returns as the Dread Pirate Roberts to rescue Buttercup from her crooked, crowned captor! But what the trailer above asks is, what he didn't? What if instead this masked man was a stalker with plans of pain for the beautiful Buttercup.
Every year, there are editing competitions across the country that challenge up-and-coming cutters to re-imagine well-known movies within new genre parameters. The most famous of these turned Stanley Kubrick's horror masterpiece The Shining into a charming family comedy in the vein of About A Boy.
For a more recent reinterpretation, check out this chilling look at Frozen, which frames Elsa as exactly the monster the Duke of Weasletown Weselton suspects her to be!
Or how about this tricky trailer that recuts Pixar's imaginative adventure Ratatouille into a creepy creature feature.
Last but not least, Willy Wonka And the Chocolate Factory recut to elicit terror instead of wonder. Really, considering that nightmarish tunnel sequence and the sinister Mr. Slugworth, this isn't too far a leap.
Which one of these recut versions would you like to see?
Staff writer at CinemaBlend.
Your Daily Blend of Entertainment News
Thank you for signing up to CinemaBlend. You will receive a verification email shortly.
There was a problem. Please refresh the page and try again.