Watch The Rock Confirm A Major Baywatch Cast Member As Only He Could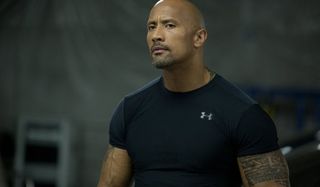 If you're serious, and we mean deadly serious, about making a Baywatch film, there's one man you need in your cast list in order to make it official. As of tonight, Dwayne "The Rock" Johnson has that man in his crew, seeing as he's just confirmed that David Hasselhoff will be hitting the beach once more. Watch Johnson and The Hoff ham it up in the name of the fans below!
Showing off the fact that he's the king of the Instagram, Dwayne Johnson dropped the video above showing his video call with David Hasselhoff, the man who was "born ready" for a Baywatch motion picture. And judging by how Johnson pitched him the project as an R-rated "Avengers meets Anchorman" fun fest, we can't imagine there being any other answer coming from The Hoff than, "Yes, when do you need my ass in shape?" In shape he will be, as Hasselhoff has allegedly been hitting the gym to get himself into bathing suit condition for the currently in production film.
Now right there, you've got a hint as to how David Hasselhoff will be playing into Baywatch's plans, as getting him into swimsuit shape means that the original Mitch Buchannon will be slow-motion running from the darkness into the light with the new breed of lifeguards keeping the beaches of Los Angeles County safe from the forces of evil. While we have no character details about who Hasselhoff will be playing, it can be assumed that he'll be the Nick Fury of the Baywatch crew if Dwayne Johnson's analogy is to be believed. Which would be pretty damned funny, considering his previous role as the TV movie version of that same character, and the character of Ben Edwards pretty much served a similar purpose in the original series.
There's also the possibility that, through a stroke of meta magic and humor, David Hasselhoff could be playing Mitch Buchannon Sr. to Dwayne Johnson's Mitch Buchannon Jr. Though, considering how most of, if not all of the roles specified are sticking to the pre-established cast of Baywatch characters, this seems like a hard sell. Unless the writers decided to forego continuity for one really funny callback to a gag from Indiana Jones and the Last Crusade, in which Johnson's "Mitch" turns out to actually be Hobie - Mitch's son from the show. In that case, all would be forgiven in the name of laughter. Out of all of the possibilities that are stacking up for Hasselhoff's return to the beach, there isn't a clear front-runner, but it doesn't matter because The Hoff is back! And as Johnson said himself in the video above, "There ain't no Bay without The Hoff."
Of course, now that David Hasselhoff is Baywatch bound, you know what we have to do. That's right, folks! Prepare to slip into full throwback mode and partake in the original Baywatch theme song!
Baywatch is scheduled for release on May 19, 2017. Try to contain your enthusiasm for a hypothetical Baywatch Nights film until then.
CinemaBlend's James Bond (expert). Also versed in Large Scale Aggressors, time travel, and Guillermo del Toro. He fights for The User.
Your Daily Blend of Entertainment News
Thank you for signing up to CinemaBlend. You will receive a verification email shortly.
There was a problem. Please refresh the page and try again.