Watch Star Trek Beyond's Cast Pay A Beautiful Tribute To Leonard Nimoy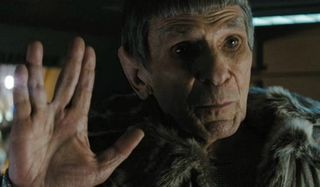 Leonard Nimoy may have gone into the Beyond, but his presence is still felt today. As part of Star Trek 3's To Boldly Go campaign to support nine global organizations, Zachary Quinto, Chris Pine and the rest of the film's cast have offered a dedication to the actor who originated Spock. Watch the tribute video below.
The Stark Trek: To Boldly Go Omaze campaign (opens in new tab) seeks to raise money for the organizations Brave Beginnings, Camp Sunshine, Direct Relief, Heaven Homes, KidsCan, Koreatown Youth & Community Center, Make-A-Wish, Time Is Precious, and St. Jude's Research Hospital. The latter was close to Nimoy's heart, which is why this week is dedicated to the organization leading the way in child cancer research.
Zachary Quinto, who portrays a younger version of Spock in the Star Trek films since 2009, narrates the video, which features behind-the-scenes footage Nimoy on the set of the recent Star Trek films. Capping off the brief look at his time reprising the character is a shot of the Star Trek Beyond cast. Pine, Quinto, Simon Pegg, Zoe Saldana, Karl Urban, Anton Yelchin, John Cho, and franchise newcomer Idris Elba all held up their hands in the iconic "Live Long and Prosper" gesture.
Leonard Nimoy passed away on February 27, 2015 at his home in Los Angeles' Bel-Air. He was 83 years old and his surviving wife, Susan, said his death was a result of end-stage chronic obstructive pulmonary disease (COPD). He was 82 when he revealed his diagnosis.
A month before Nimoy's death, he sent a check for $10,000 to St. Jude's. Marlo Thomas, St. Jude's national outreach director, wrote on Facebook, "Even in his very hard, least days he was thinking of how to help others." Anyone who chooses to donate to the organization through the Star Trek Omaze campaign will be entered to win a walk-on role for the third film in the current film run. The campaign ends in just over a week's time.
Justin Lin of Fast and Furious 6 directs Star Trek Beyond, since J.J. Abrams is busy with Star Wars: The Force Awakens. Plot details are still under wraps for the most part, but we know that Beyond will be see the crew of the Enterprise on their classic voyage into deep space. Photos from the set leaked out recently have revealed new uniforms for the crew, as well as a new white-skinned alien in their company (played by Kingsman: The Secret Service's Sofia Boutella). Meanwhile, Elba's character is said to play a large part in the film, and the actor said he shares scenes with Quinto's Spock.
Production is currently under way on Star Trek Beyond, which is set to hit theaters on July 8, 2016.
Your Daily Blend of Entertainment News
Thank you for signing up to CinemaBlend. You will receive a verification email shortly.
There was a problem. Please refresh the page and try again.