Star Trek's Leonard Nimoy Dead At 83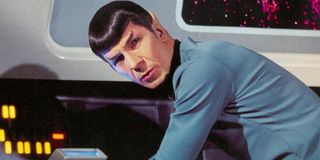 We have tragic news to report today, as Leonard Nimoy, the iconic mainstay of the Star Trek franchise, has passed away. The 83-year-old was recently hospitalized due to chest pains, and his son, Adam, announced the news of his passing on Friday. Nimoy had an immense presence as Spock in the Star Trek TV programs and films, and his death will have a monumental impact on all those he touched through his work.
In a statement from Adam, Nimoy passed away in the comfort of his home in Bel Air. He had been battling chronic pulmonary disease (CPD), and TMZ reported last week that the actor had checked into UCLA Medical Center, though he was eventually released. Nimoy blamed his CPD diagnosis on his smoking habit, and he had been urging smokers to quite on Twitter for the past few months. The Hollywood icon had an active presence on social media with a diehard following, though his last tweet has a greater impact in light of this tragedy.
Much like his character's catchphrase, the actor did "live long and prosper." Way back in the '60s, Nimoy was teaching Method acting when he was cast in the original Star Trek series as Spock. He also appeared in Star Trek: The Animated Series and a couple of episodes of Star Trek: The Next Generation. In fact, his presence was felt throughout the entire franchise, including the original movies, the spin-offs and the current reboot. Nimoy last appeared as Spock in J.J. Abrams Star Trek Into Darkness, as the future version of Zachary Quinto's version.
Nimoy released two autobiographies over the course of his career, one in 1977 called I Am Not Spock and the other in 1995 called I Am Spock. He wrote of his character in the latter,
However, Nimoy was more than just Spock. His passions extended far beyond the realm of the screen and into various creative genres, including photography, music and poetry. Nimoy studied photography at UCLA in '70s, and his work has been shown in various museums, art galleries and published works. For music, he released five albums released through Dot Productions: Leonard Nimoy Presents Mr. Spock's Music From Outer Space, Two Sides of Leonard Nimoy, The Way I Fell, The Touch of Leonard Nimoy and The New World of Leonard Nimoy. And for poetry, he published several collections, such as You and I and Warmed By Love.He also narrated more than one hundred episodes of In Search Of, which was a fascinating and mentally stimulating series.
Nimoy is survived by his second wife Susan Bay, his son Adam, his daughter Julie, a stepson and grandchildren.
Your Daily Blend of Entertainment News