We Can Scratch Two Villains Off The Guardians Of The Galaxy 2 Wish List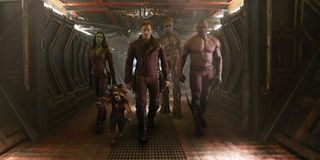 The monumental success of the cult commodity Guardians Of The Galaxy at the box office last summer means that comic-bookworms across the globe can now dream that any character who has appeared alongside Star-Lord and his merry band of intergalactic warriors could soon appear on screen. In a perfect world, that would be the case. But James Gunn has revealed that the age-old tale of Hollywood studios buying up character rights means that two hugely popular Marvel villains probably won't ever get to feature in the Marvel universe.
The social-media savvy James Gunn took to his Facebook once again to delightfully keep us up-to date with the latest goings on with Guardians Of The Galaxy 2. And after being asked whether Shi'ar Empire or Kang The Conqueror would be in Guardians 2, rather than shying away from disappointing his fans he instead decided to tell it like it is:
Damn. I suppose you have to kind of respect Fox for getting their shit together and snatching the rights to a variety of Marvel characters while Marvel Studios still tried to figure out if Eric Bana would really make a good Bruce Banner. It also makes complete sense why Kang The Conqueror, especially, has been signed up as part of Fox's roster, as he has had connections over the years with the Fantastic Four and the mutants of the upcoming X-Men: Apocalypse, too.
Kang The Conqueror has proven to be quite the foe for the Fantastic Four, as well as The Avengers. Born in the 40th Century under the name Nathaniel Richards, he has the ability to time travel, a vast intellect, a huge and deadly arsenal that he has amassed on his journey through time, and battle armor with both holographic and force field capabilities. Basically, you're not going to beat him in a tickle fight.
And while it's a pretty substantial loss to Marvel Studios that they can't bring him into their cinematic universe, it's exciting to think that 20th Century Fox might already have plans in motion for Kang The Conqueror to feature opposite X-Men and/or The Fantastic Four in the near future.
Meanwhile the Shi'ar Empire are an extra-terrestrial semi-humanoid race that originated on the planet Aerie and possess advanced technology that allows them to travel through space in a variety of speedy ways. Having mostly appeared opposite the X-Men (they did turn up in a 2013 Avengers comic) since they made their first appearance back in 1976, it's no surprise that they're not in Marvel's plans. However, with the vast amount of iconic villains that the studio has at their disposal, I'm sure that they'll manage just fine without the pair of them.
Guardians Of The Galaxy 2 is due out on May 5, 2017.
Your Daily Blend of Entertainment News
Thank you for signing up to CinemaBlend. You will receive a verification email shortly.
There was a problem. Please refresh the page and try again.