Guardians Of The Galaxy 2: 7 New Characters To Look For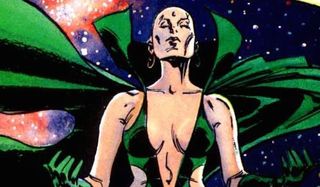 Much like Avengers: Age of Ultron added new characters to its lineup of heroes, Guardians of the Galaxy 2 will do the same for its team of rogue aliens. Director James Gunn recently revealed that a new Guardian will be joining the group in the 2017 blockbuster, and has even been informally talking with someone about playing the part. Then of course there a few other new characters who will be introduced in the film, so while we will see familiar faces like the five main characters and Nebula, audiences will also be seeing plenty of newcomers.
The cosmic side of the Marvel universe is vast, so Gunn and the rest of the creative team won't have any problems choosing new people to appear. The big question is which lucky few will be joining the electric cast of characters. Taking into account other individuals who have been part of the Guardians of the Galaxy in the comics, as well as big cosmic players part of Marvel's library of characters, here the people you should keep an eye out for in Guardians of the Galaxy 2.
Jack Flag
Jack Harrison began his superhero career as Jack Flag in honor of his childhood hero Captain America. After being stabbed in the spine by Bullseye, he was left in a prison in the Negative Zone until he was able to lead a revolt against Blastaar, one of the alternate dimension's denizens. When the Guardians showed up to assist, Jack tagged along with them and had his spine healed by their medical staff in mere moments. Unlike the other human-turned-galactic heroes on this list, it might be hard to throw Jack into the fray given how deeply connected he is to Captain America and the rest of Earth, but if they made some changes to his background (like taking him off Earth as a child or teenager like Star-Lord), it might be possible to work him in without taking attention away from the main human in the story.
Death
Unlike the other characters on this list, there's no chance that Death would be a member of the Guardians – but James Gunn didn't actually specify that the new person will actually be a member of the titular team. The abstract entity wouldn't get anything out of partnering with a random group of aliens who get into hijinks across the galaxy. Instead, she could appear to provide more development on the overarching villain of the Marvel Cinematic Universe: Thanos. Why her? Well, in the comics, the reason Thanos wants to collect the Infinity Gems and destroy all life in the universe just to show his affection for Death. There's been no word yet on whether Thanos will appear in Guardians of the Galaxy 2, but I suspect that Marvel will want include him in at least one more movie before Avengers: Infinity War Part I. By introducing the object of the Mad Titan's affections and seeing the two of them together, the audience will learn more about what his endgame is.
Mantis
When Mantis was a child in Vietnam, she was left at a temple that housed a sect of the alien race Kree. They believed her to be the Celestial Madonna, a.k.a. the mother of the eventual Celestial Messiah, the "most important being in the universe." Trained in various forms of martial arts as a child, she was then mind wiped and sent out to live in the world, where she met several figures from the Marvel universe and became a superhero. Her relationship with the Guardians began when she served as their counselor at their Knowhere station. And though she eventually left the team, she still helps them out every now and then on missions. While it's unknown whether they would keep her human or change her to full alien in the movie, having her character as a counselor would be a good idea considering all the issues the main crew has.
Bug
This particular alien doesn't have an interesting name, but he has plenty of experience with the Guardians. Originally from the Micronauts toy line, Marvel used Bug in various cosmic storylines until he joined the Guardians team in the late 2000s. He's not as prominent as the original five members (referring of course to the modern team, not the 1960s one), but he has helped them out in several events like the "War of Kings." The only issue with having Bug show up is that while he is still appearing in the comics, it's trickier to include him in the MCU due to film rights issues (one of Marvel's persistent foes), which is why we didn't see him in Guardians of the Galaxy. Since he isn't nearly as famous as characters like the X-Men and Fantastic Four, one would think it would be much easier to secure him, especially considering how successful the first film was.
Moondragon
Here's the deal with Moondragon: in the comics, her mother and father were killed when they spotted the Mad Titan's spaceship on Earth, and the Mad Titan didn't want any witnesses. Moondragon, then named Heather, survived the car crash and was taken by Thanos to be trained to be an assassin. When she became a young woman, Moondragon was able to escape and begins her mission of fighting evil. Years later she would join the Guardians as a field agent… but here's the crazy part. After her father died, his soul was put into a new body, and this new individual was Drax the Destroyer. Obviously some changes would have to be made if Moondragon is put into Guardians of the Galaxy 2, like her not being human and an appropriate explanation for how she survived being killed by Ronan. Still, you have to admit, this would be a great way to not only include a new team member, but also enhance Drax's story.
Phyla-Vell
She has gone through many names over the years like Quasar and Martyr, but Phyla-Vell has been a key player in Marvel's cosmic stories over the years. Her powerhouse skills like super strength, flight and energy projection would come in handy for the team to dish out against enemies, and if both her and Moondragon were to both show up in Guardians of the Galaxy 2, their romantic relationship could be explored, adding an extra bit of diversity to the Marvel Cinematic Universe. Hardcore Marvel fans will also recognize that Phyla is the offspring of Marv-Vell, the Marvel Universe's first Captain Marvel. Depending on what the MCU has planned, perhaps Phyla could be used to set up a future appearance from her father and/or 2018's Captain Marvel, given that with the latter, Mar-Vell played an important role in Carol Danvers getting her powers.
Adam Warlock
Despite our original beliefs, that cocoon seen in Guardians of the Galaxy as part of The Collector's collection was not meant to be Adam Warlock's cocoon, meaning that the still hasn't been touched upon in this universe. We've said it many times before, but it always bears repeating: Warlock needs to be included in the MCU. In the original Infinity Gauntlet storyline, the artificial human originally known just as "Him" was key to rounding up all the Marvel heroes (and villains) left to mount a resistance against Thanos, who had collected all six Gems. So far we've seen four Infinity Stones in the MCU, leaving only two: Time and Soul. Fortunately, the Soul Stone is the one that Warlock has owned on several occasions, so he would be the best way to introduce it. More importantly, though, is that putting him in Guardians of the Galaxy 2 gets audiences familiar with him before he plays his crucial role in the Avengers: Infinity War movies. Plus, his unique powers would certainly come in handy as a member of the team.
Connoisseur of Marvel, DC, Star Wars, John Wick, MonsterVerse and Doctor Who lore. He's aware he looks like Harry Potter and Clark Kent.
Your Daily Blend of Entertainment News
Thank you for signing up to CinemaBlend. You will receive a verification email shortly.
There was a problem. Please refresh the page and try again.