We're Getting A Zombies Vs. Robots Movie Because Who Wouldn't Want To See That?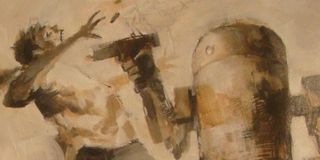 Andrew Adamson (who headed up projects like The Chronicles of Narnia and Shrek) has a pretty awesome project coming down the pike. Adamson will be directing a project called Inherit the Earth, which is based on the 2006 IDW comic book miniseries, Zombies vs. Robots by Chris Ryall and Ashley Wood. Ryall and Wood's comic is set in a post-apocalyptic universe, and it centers around a group of robots discovering the last human on earth--an infant. The robots protect this child from the hordes of zombies roaming free on the earth, and attempt to clone her to save the human race. I'd like to go ahead and buy my ticket now, thanks.
As Variety reports, the film's screenplay is written by Oren Uziel, and is going to be co-production of Michael Bay's company Platinum Dunes, Circle of Confusion, and IDW Publishing. It will be produced by Michael Bay, Brad Fuller, Andrew Form, Dave Alpert and Rick Jacobs, with Ted Adams as executive producer. Of course, the most eyebrow-raising name on that list is certainly Michael Bay himself. While a post-apocalyptic movie about zombies and robots will certainly be rife with suspense and action, it's not one that I would normally associate with Michael Bay. While Bay won't be directing the film, I'm sure he'll find a way to convince Adamson that the movie needs a few more explosions.
Inherit the Earth will certainly be a bit of a different project for Adamson. He first made a splash in Hollywood when he directed Shrek and Shrek 2, and moved from there to direct the live action flick, The Chronicles of Narnia: The Lion, The Witch, And The Wardrobe. Beyond those films, he's directed a Cirque de Soleil film and a Focus Features production called Mr. Pip. With such a diverse resume, it will be very interesting to see what directorial style Adamson brings to Inherit the Earth. Hopefully Inherit the Earth will prove to be a more satisfying book-to-film adaptation than The Chronicles of Narnia movies were.
News is still developing on this project, so there are no casting rumors or release dates at this stage. This news does come just as IDW is about to release an ongoing Zombies vs. Robots series. Up to this point, IDW has only released Ryall and Wood's comic in the form of various miniseries and special editions, like a crossover with Mars Attacks and the miniseries that followed other human survivors, ZVR: Undercity. There isn't any word yet if the studio is hoping to create more than one film, but if the thousands of good and bad sequels filling the box office today is any indication, it's a fair bet that we could potentially see sequels if Inherit the Earth does well. There is certainly a lot of awesome material to pull from in Ryall and Wood's comic.
Despite the goofy sounding title of Zombies vs. Robots, the IDW comic has gotten a lot of praise from readers, which makes it seem as though Inherit the Earth could easily stand more closely with those awesome zombie films like 28 Days Later, and not so much with those awesomely bad zombie films like Ebola Zombies. Of course, we'll have to wait to see the direction the studio is choosing to go with the film as more news breaks. We'll keep you updated on this project as this story develops.
Your Daily Blend of Entertainment News