Weekend Box Office: Dark of the Moon Transforms Independence Day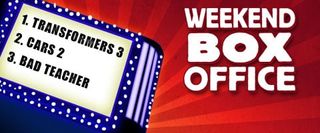 UPDATE: Click to view the four-day holiday weekend totals!
Superman may be the iconic American superhero, but this Independence day it was the Transformers who won over the hearts and wallets of the nation. Raking in giant-freaking-robot-worthy amounts of cash and breaking records, Transformers: Dark of the Moon, the third entry in the franchise, dominated the holiday weekend.
Not only did the $97 million banked by Dark of the Moon rocket it to the top as highest grossing film of 2011 so far, it also marked the highest ever grossing Independence Day weekend total, handily smashing previous record holder Spider-Man 2's $88 million debut in July 2004.
Of course the record comes with an asterisk of sorts. About 60% of its total gross sales poured in from 3D showings which bring with them hiked-up ticket prices. The result? Transformers: Dark of the Moon didn't necessarily experience a record number of attendees, but those who went were willing to shell out a record amount of cash.
When the the movie's mid week amounts are rolled in beginning with Tuesday night previews, its five day take is an impressive $162 million. While that overshadows the original Transformers five day opening total of $133 million, it falls far short of the over $200 million earned by the second franchise film Revenge of the Fallen. The slip is to be expected, however, given the miserable disaster that was the second film. Director Michael Bay should be happy anyone bothered to show up for a third installment at all, much less expecting the record breaking turn out.
The weekend's sci-fi onslaught overshadowed two other new releases. Tom Hanks' Larry Crowne settled in at fourth place with $13 million, right beneath last week's champs Cars 2 and Bad Teacher. The obscure Monte Carlo nabbed a distant fifth with $7.6 million.
With the 4th of July offering up a three day weekend this year, theaters are hoping to see more butts in the seats tomorrow than usual. Check back for the holiday weekend's four day totals.
For the three day Independence Day top ten results, check out the chart below:
1.

Transformers: Dark of the Moon *
$97,400,000
Total: $162,125,000
LW: N WR: 1
THTRS: 4,013
2.

Cars 2
$25,112,000
Total: $116,043,000
LW: 1 WR: 2
THTRS: 4,115
3.

Bad Teacher
$14,100,000
Total: $59,546,000
LW: 2 WR: 2
THTRS: 3,049
4.

Larry Crowne *
$13,007,000
Total: $13,007,000
LW: N WR: 1
THTRS: 2,973
5.

Monte Carlo *
$7,600,000
Total: $7,600,000
LW: N WR: 1
THTRS: 2,473
6.

Super 8
$7,500,000
Total: $108,036,000
LW: 4 WR: 4
THTRS: 3,088
7.

Green Lantern
$6,270,000
Total: $101,962,000
LW: 3 WR: 3
THTRS: 3,280
8.

Mr. Popper's Penguins
$5,100,000
Total: $50,125,000
LW: 5 WR: 3
THTRS: 2,861
9.

Bridesmaids
$3,521,000
Total: $152,895,000
LW: 8 WR: 8
THTRS: 1,389
10.

Midnight in Paris
$3,438,000
Total: $33,638,000
LW: 11 WR: 7
THTRS: 858
Your Daily Blend of Entertainment News
Thank you for signing up to CinemaBlend. You will receive a verification email shortly.
There was a problem. Please refresh the page and try again.