Weekend Box Office: Frozen Reclaims Number One As Paranormal Activity and The Hobbit Chill Out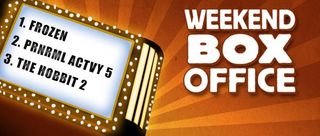 Happy New Year! It was certainly happy for Disney, at any rate. Frozen showed heavy longevity this weekend, taking the top spot in the box office despite being in its seventh week in theaters.
The animated feature added more than $20 million to its almost $300 million domestic total. That was enough to outpace newcomer Paranormal Activity: The Marked Ones which took second place with $18 million, and The Hobbit: The Desolation of Smaug which slipped to third after three weekends at number one.
Paranormal Activity: The Marked Ones, the fifth entry in the franchise, had the worst wide-opening in the series, falling well behind the $52 million and $29 million debuts of Paranormal 3 and Paranormal 4 respectively.
While the steady decline points clearly to waning audience interest, the fact that this latest movie made $18 million in three days against a very modest $5 million production budget shows there's still some profit to be milked from the tired franchise.
For the full weekend top ten, check out the chart below:
1.
Frozen (2013)

$20,722,000Total: $297,838,000LW: 2
THTRS: 3,318
2.
Paranormal Activity: The Marked Ones *

$18,200,000Total: $18,200,000LW: N
THTRS: 2,867
3.
The Hobbit: The Desolation of Smaug

$16,250,000Total: $229,634,000LW: 1
THTRS: 3,730
4.
The Wolf of Wall Street

$13,400,000Total: $63,295,000LW: 5
THTRS: 2,557
5.
American Hustle

$13,200,000Total: $88,700,000LW: 4
THTRS: 2,518
6.
Anchorman 2: The Legend Continues

$11,100,000Total: $109,180,000LW: 3
THTRS: 3,407
7.
Saving Mr. Banks

$9,057,000Total: $59,320,000LW: 6
THTRS: 2,110
8.
The Secret Life of Walter Mitty

$8,200,000Total: $45,669,000LW: 7
THTRS: 2,922
9.
The Hunger Games: Catching Fire

$7,400,000Total: $407,488,000LW: 8
THTRS: 2,143
10.
Grudge Match

$5,410,000Total: $24,920,000LW: 11
THTRS: 2,856
Your Daily Blend of Entertainment News
Thank you for signing up to CinemaBlend. You will receive a verification email shortly.
There was a problem. Please refresh the page and try again.