Weekend Box Office: Guardians Of The Galaxy Triumphs Over Turtles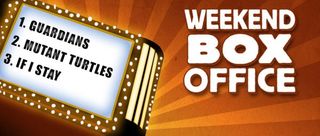 This weekend the staying power of quality comic-book-movie-making over crappy comic-book-movie-remaking proved there is a little bit of justice in the world of the box office. After two weekends playing second fiddle to the inferior Teenage Mutant Ninja Turtles debacle, Guardians of the Galaxy held on strong enough to retake number one for a second weekend to date.
The good news for Guardians of the Galaxy doesn't stop there. I'll confess to doubting whether or not Guardians could outperform Captain America: The Winter Solider as the number one movie of the year so far. But, thanks to only slipping 30% from last weekend, it added $17 million to its domestic total and with $251 million in the bank it's guaranteed to pass Captain America's $259 million.
It's worth noting, however, that no movies this year have hit the $300 million mark in domestic sales. Usually by the end of the summer there is at least one, if not two. And it's not just the top sellers. Domestic movie sales are down 5% across the board from this same time last summer according to records over at Box Office Mojo. Granted, the movie selections have been dismal(so much so that it's no wonder the great but not really amazing Guardians of the Galaxy has been so overrated), but Hollywood hasn't usually been this far behind following the blockbuster season. Cut backs coming to a theater near you?
Its unusual style and brooding fan base gave Sin City an edginess and an edge when it hit theaters almost ten years ago, helping it to an impressive (for R-rated) $29 million opening. The sequel (and its mouthful of a title) Frank Miller's Sin City: A Dame to Kill For had no such edge and no such luck, debuting with just $6 million. No official production budget has been published, but it's bound to be higher than the $40 million spent on the first Sin City, making this sequel a major box office fizzle.
When the Game Stands Tall is about five years too late to ride the wave of success of the feel-good football genre, and its delayed entry showed in its $9 million fifth place opening. It couldn't even hold up against teen drama If I Stay which landed third place with a relatively strong $16 million first weekend against its very modest $11 million price tag.
For the full weekend top ten, check out the chart below:
1.
Guardians of the Galaxy

$17,631,000Total: $251,884,000LW: 2
THTRS: 3,371
2.
Teenage Mutant Ninja Turtles (2014)

$16,800,000Total: $145,610,000LW: 1
THTRS: 3,864
3.
If I Stay *

$16,355,000Total: $16,355,000LW: N
THTRS: 2,907
4.
Let's Be Cops

$11,000,000Total: $45,246,000LW: 3
THTRS: 3,140
5.
When the Game Stands Tall *

$9,000,000Total: $9,000,000LW: N
THTRS: 2,673
6.
The Giver

$6,730,000Total: $24,101,000LW: 5
THTRS: 3,003
7.
The Expendables 3

$6,600,000Total: $27,519,000LW: 4
THTRS: 3,221
8.
Frank Miller's Sin City: A Dame to Kill For *

$6,477,000Total: $6,477,000LW: N
THTRS: 2,894
9.

The Hundred-Foot Journey
$5,562,000
Total: $32,750,000
LW: 7
THTRS: 1,944
10.
Into The Storm

$3,800,000Total: $38,301,000LW: 6
THTRS: 2,375