Weekend Box Office: Mockingjay On Top Again For Slowest Weekend Of The Year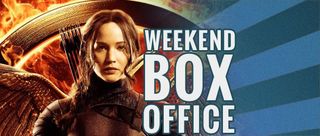 There was only one new release this weekend, and a small release entry at that. The Pyramid opened in under 600 venues but still managed a ninth place debut with $1.3 million. Everything else fell, many a little harder than most weekend to weekend drops, resulting in what Box Office Mojo reports is pretty much the lowest selling weekend of the year.
The Hunger Games: Mockingjay - Part I held first place, adding $21 million to its now $257 million total. That puts it just a couple of million short of the second and third highest grossing movies of the year, Captain America: The Winter Soldier and The LEGO Movie. But it's still up in the air whether or not it can catch up to Guardians of the Galaxy which will end its run with about $334 million.
For the full weekend top ten, check out the chart below:
1.
The Hunger Games: Mockingjay - Part 1

$21,600,000Total: $257,700,000LW: 1
THTRS: 4,054
2.
Penguins of Madagascar

$11,100,000Total: $49,591,000LW: 2
THTRS: 3,775
3.
Horrible Bosses 2

$8,600,000Total: $36,075,000LW: 5
THTRS: 3,400
4.
Big Hero 6

$8,130,000Total: $177,548,000LW: 3
THTRS: 3,168
5.
Interstellar

$8,000,000Total: $158,657,000LW: 4
THTRS: 3,028
6.
Dumb and Dumber To

$4,169,000Total: $78,081,000LW: 6
THTRS: 3,088
7.
The Theory of Everything

$2,668,000Total: $13,613,000LW: 7
THTRS: 826
8.
Gone Girl

$1,500,000Total: $162,861,000LW: 8
THTRS: 1,205
Swipe to scroll horizontally
9.
The Pyramid *
$1,350,000
Total: $1,350,000
LW: N
THTRS: 589
10.
Birdman

$1,150,000Total: $18,919,000LW: 9
THTRS: 738
Your Daily Blend of Entertainment News