Weekend Box Office: Not-So-Amazing Spider-Man Swings To Top Spot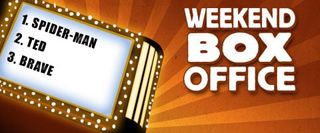 With $65 million The Amazing Spider-Man claimed the top spot this weekend, but Spidey fell short of the successes enjoyed by Raimi's triligy. All three of the previous films each banked more than $100 million on their debut weekends. It's important to note that The Amazing Spider-Man's early opening on Tuesday siphoned off much of its early sales, and that its six day total is a solid $140 million. That's still a far cry from the successes of its predecessors but when you consider the inevitable Spidey-fatigue it's a reasonably solid total.
It's also worth nothing that it broke the record for biggest Tuesday sales with its $35 million opening day. That sounds impressive until you notice that the record is only due to the movie opening on such an odd day and that its only real competition, Transformers, which also opened on a Tuesday, would still hold the record if you included the Monday late night showings which would have brought that movie's Tuesday total to $36 million.
All in all it was a profitable debut for the second hand Spider-man, but amazing? No.
Drug cartel thriller Savages, which was saddled with an unimpressive marketing campaign and a shared weekend opening with the likes of Spider-man, settled for a weak-kneed fourth place with just $16 million. That's a bad sign for Universal who has sunk over $50 million into a film that is showing poorly at home and isn't likely to do very well abroad.
I'm not entirely sure what compelled Katy Perry to want to do a concert movie. Unlike teen sensations Miley Cyrus and Justin Bieber whose main demographic are naive enough to be all too happy to spend $8 and an hour in line to sing along with a video recording of their hero, Perry has fans who seem far less excited to settle for the not-so-live version of their idol. Perry's Part of Me, which opened on Thursday, has banked just $10 million so far, $7 million of which were from the three day weekend, giving her eight place on the chart. She also landed only the fifth highest ever concert movie opening, just behind the Jonas Brothers.
Woody Allen, whose career is full of hits and misses, has come up with a miss in To Rome With Love. After wallowing in low sales for two weeks in small release, it spread to over 800 theaters this weekend but only came up with $3 million and a sad tenth place.
For the full weekend top ten, check out the chart below:
1.

The Amazing Spider-Man *
$65,000,000
Total: $140,000,000
LW: N WR: 1
THTRS: 4,318
2.

Ted
$32,593,000
Total: $120,240,000
LW: 1 WR: 2
THTRS: 3,256
3.

Brave
$20,162,000
Total: $174,519,000
LW: 3 WR: 3
THTRS: 3,891
4.

Savages (2012) *
$16,162,000
Total: $16,162,000
LW: N WR: 1
THTRS: 2,628
5.

Magic Mike
$15,610,000
Total: $72,797,000
LW: 2 WR: 2
THTRS: 3,120
6.

Tyler Perry's Madea's Witness Protection
$10,200,000
Total: $45,846,000
LW: 4 WR: 2
THTRS: 2,161
7.

Madagascar 3: Europe's Most Wanted
$7,700,000
Total: $196,020,000
LW: 5 WR: 5
THTRS: 2,861
8.

Katy Perry: Part of Me *
$7,150,000
Total: $10,250,000
LW: N WR: 1
THTRS: 2,730
9.

Moonrise Kingdom
$4,642,000
Total: $26,893,000
LW: 7 WR: 7
THTRS: 884
10.

To Rome with Love
$3,502,000
Total: $5,621,000
LW: 17 WR: 3
THTRS: 806
Your Daily Blend of Entertainment News
Thank you for signing up to CinemaBlend. You will receive a verification email shortly.
There was a problem. Please refresh the page and try again.