Weekend Box Office: Think Like A Man Doubles Down Over Misfit Pirates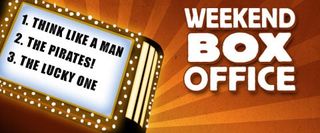 Like the deep breath before the plunge, box office sales sagged for the last week of April, giving Think Like A Man a second weekend at the number one spot. Four newcomers settled for lukewarm openings while the first of a long string of summer blockbusters got an early start in international theaters.
Despite being a team of mostly American heroes (lead by Captain America no less) American's had to settle for second string as The Avengers opened just about everywhere else around the world this weekend. Taking in $178 million abroad, the movie is poised to make potentially record breaking bank when Americans get their chance at the action next weekend.
The Pirates! Band of Misfits took in just $11.4 million for second place. That follows up on $63 million around the rest of world, putting the claymation movie on solid, if not stellar, financial ground.
Taking a very close fifth place was comedy The Five-Year Engagement, banking $11.1 million and just missing the number two and three spots by less than a couple thousand dollars. Being that these numbers are estimates, there's a good chance it could move up the chart when final numbers roll out tomorrow.
There' little hope of upward movement for remake Safe and critically slammed Edgar Allen Poe biopic The Raven. The two settled for sixth and seventh place respectively with just $7 million apiece.
For the full weekend top ten, check out the chart below:
1.

Think Like a Man
$18,000,000
Total: $60,868,000
LW: 1 WR: 2
THTRS: 2,015
2.

The Pirates! Band of Misfits *
$11,400,000
Total: $11,400,000
LW: N WR: 1
THTRS: 3,358
3.

The Lucky One
$11,325,000
Total: $39,927,000
LW: 2 WR: 2
THTRS: 3,175
4.

The Hunger Games
$11,250,000
Total: $372,455,000
LW: 3 WR: 6
THTRS: 3,572
5.

The Five-Year Engagement *
$11,157,000
Total: $11,157,000
LW: N WR: 1
THTRS: 2,936
6.

Safe (2012) *
$7,720,000
Total: $7,720,000
LW: N WR: 1
THTRS: 2,266
7.

The Raven *
$7,250,000
Total: $7,250,000
LW: N WR: 1
THTRS: 2,203
8.

Chimpanzee
$5,460,000
Total: $19,153,000
LW: 4 WR: 2
THTRS: 1,567
9.

The Three Stooges
$5,400,000
Total: $37,141,000
LW: 5 WR: 3
THTRS: 3,105
10.

The Cabin in the Woods
$4,500,000
Total: $34,664,000
LW: 6 WR: 3
THTRS: 2,639
Your Daily Blend of Entertainment News
Thank you for signing up to CinemaBlend. You will receive a verification email shortly.
There was a problem. Please refresh the page and try again.