The Weinstein Company Will Fight The MPAA Over Blue Valentine's NC-17 Rating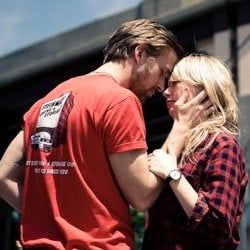 Those of us who have seen Derek Cianfrance's Blue Valentine, and even the many other people looking forward to seeing the Sundance hit drama, were shocked to learn last week that the MPAA had slapped the film with an NC-17 rating, guaranteeing not only that it would have a hard time getting play in theaters, but that the Oscar chances-- for a film with spectacular performances by Ryan Gosling and Michelle Williams-- were severely limited if not dead entirely.
But Blue Valentine isn't some tiny indie just trying to scrape ahead in this world-- it's a tiny indie represented by the strongest voice out there for indies, Harvey Weinstein. As the Weinstein Company goes forward with plans to release the film at the end of the year, Harvey has released a strongly worded statement announcing their intentions to appeal the decision. You can read it in its entirety below:
The weirdest part of all of this is that the MPAA rating hit at the same time last week as the film's first trailer, which you can watch below in all its very sweet, very non-hardcore glory. I'll be the first to admit that the film has some serious sex in it, and as an often brutal story about a disintegrating marriage it would definitely be deserving of an R-rating, but I'm with Harvey in thinking that an NC-17 in this case is ludicrous. Get out there and fight the good fight.
Your Daily Blend of Entertainment News
Staff Writer at CinemaBlend