Werner Herzog Wants To Teach You The Crazy Side Of Filmmaking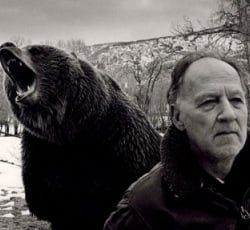 Werner Herzog is an important filmmaker, yes, but he's also an icon for reasons that have nothing to do with what he's put on film. You may have seen Grizzly Man or Aguirre, but you're probably more attached the story of him threatening to kill Klaus Kinski or being shot at while conducting an interview and going on as if nothing had happened.
So if you want to be like Herzog without all those pesky filmmaking skills, you're in luck! Herzog is opening his very own film school, but not the kind that teaches sissy things like camera apertures or how to use a tripod. According to the school's official website, the Rogue Film School "is about a way of life. It is about a climate, the excitement that makes film possible. It will be about poetry, films, music, images, literature." If you want to learn about film stock, "please enroll at your local film school."
The "school" will actually be a series of weekend seminars taught by Herzog, apparently kicking off this January. It costs $1450 for the first weekend seminar, though, so make sure you're ready before you sign up. The site is very much worth checking out if only for proof that we're not punking you, but check out the list of 11 rules below. I cannot wait for the gonzo movie journalism pieces that result when a couple of brave bloggers enroll in this.
Staff Writer at CinemaBlend
Your Daily Blend of Entertainment News
Thank you for signing up to CinemaBlend. You will receive a verification email shortly.
There was a problem. Please refresh the page and try again.