West Memphis Three Film Devil's Knot Adds Three More To Its Cast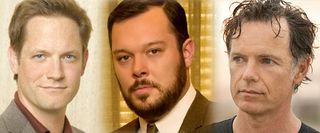 Following the release of the West Memphis 3, Hollywood was abuzz with plans to develop the teen trio's incredible story of wrongful conviction for the mutilation and murder of three young boys, into a narrative feature. But tackling a complicated—and unsolved—murder mystery that spans nearly 20 years and includes a myriad of characters is an ambitious undertaking to say the least.
Still, Atom Egoyan was more inspired than intimidated by the West Memphis 3 story, so the writer-director who has spun real life tragedy into compelling dramas with The Sweet Hereafter and Ararat is helming an adaptation of their story as told by Mara Leveritt's best-selling true crime book, Devil's Knot: The True Story of the West Memphis Three. His film of the same name will star Colin Firth as private investigator Ron Lax, whose tireless efforts uncovered troubling details about the case that ultimately led to the release of Damien Echols, Jessie Misskelley Jr., and Jason Baldwin after 18 years in prison.
Joining a star-studded cast that already includes Oscar-winner Reese Witherspoon and Alessandro Nivola are Matt Letscher of ABC's Scandal, Michael Gladis of Mad Men, and Bruce Greenwood, who recently wrapped production on Derek Cianfrance's much-anticipated drama The Place Beyond the Pines. Deadline reports that Letscher has signed on to play Paul Ford, the defense attorney for Baldwin, while THR reveals that Gladis will portray Dan Stidham, the defense attorney for Misskelley, and Greenwood is lined up to play the not-so-honorable Judge David Burnett, who oversaw the West Memphis 3's trial, and was later accused of bias that slanted the scales of justice against the accused. Garnering such noteworthy character actors for supporting roles is a great sign that Egoyan's talent-stacked ensemble will be a heavy-hitter in the drama department.
Devil's Knot goes into production in July.
Staff writer at CinemaBlend.
Your Daily Blend of Entertainment News
Thank you for signing up to CinemaBlend. You will receive a verification email shortly.
There was a problem. Please refresh the page and try again.