What The Avengers Would Look Like As A Primetime Sitcom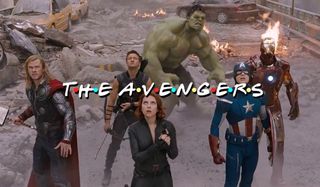 Remember that incredible viral video that gave Harry Potter the Friends treatment? The same YouTuber is back with a similar take on The Avengers. Earth's Mightiest Heroes don't just fight crime together. As we've seen in previews for Age of Ultron, they also like to hang, get drunk and have relationships with each other. (Black Widow and Hulk would be like the Ross and Rachel of this scenario.)
Jeremiah Rivera has cut together some footage from Joss Whedon's superhero masterpiece and its sequel, and layered over the theme song to the popular '90s series. It's kind of amazing the difference the Friends theme song can make on something as action-packed as The Avengers. We just wished Rivera cut the footage of Hulk smashing Loki into the ground to go along with the rhythm of the claps. That would've put this video over the top, but it's still pretty enjoyable. Any video that highlights that moment from the Avengers 2 trailer when all the heroes leap into slow-motion action is an achievement in my book.
The bulk of the Friends-Avengers mashup gives us a rundown of each of the characters, from Captain America breathing heavily and looking incredulously off in the distance to Chris Hemsworth wielding his luscious Thor locks as easily as he does his hammer. Scarlett Johansson's Black Widow, however, has them all beat. Her character has a lot more about-faces than most of the other Avengers, giving her a perfect match for such a sitcom introduction as this. Second runner up, I feel, would be Mark Ruffalo's Bruce Banner. He's perfect as the cliched sitcom geek fiddling with his computers.
Rivera's first attempt, the previously mentioned Harry Potter-Friends video, received a ton of views on YouTube and proved that good things can arise when you're bored and fiddling with iMovie or Final Cut. Rivera mentioned in the video description of his Avengers spoof that he wanted to make another one after his Harry Potter attempt proved so successful. If Avengers does well — and it's already passed 26,000 views on YouTube — then he'd make even more. Relive the magic of his first video below.
Avengers: Age of Ultron is just over a month away, and we're all a little on edge over how close we are to seeing the Iron Man- and Captain America-led team go up against Ultron, Scarlet Witch and Quicksilver, and The Vision. This spoof helps to refocus our attention as we deal with all these emotions.
Your Daily Blend of Entertainment News