What The Boston Globe's Former Editor Felt While Watching Spotlight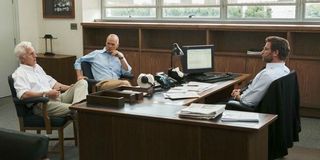 Spotlight has found itself atop many a Top 10 list over the last few weeks. Which is rather unsurprising when you consider that it's a meticulously crafted, riveting expose on the investigation and cover up of child abuse by Roman Catholic priests in the Boston area. But while critics and movie folk have been fawning over Spotlight, how do the journalists whose actions were adapted for the film feel about it?
Rather unsurprisingly, they love it. Well, at least Marty Baron, played by Liev Schreiber in Spotlight, did. Baron oversaw the investigation into the rampant child abuse in and around Boston. You can imagine that seeing yourself being portrayed up on screen is somewhat bizarre, but rather than being unable to invest in the film because he was one of the characters, Baron insisted that he actually became emotional while watching it. During a recent interview with The Hollywood Reporter, he admitted:
Marty Baron declard that he now hopes there will be a renewed interest in investigative journalism. Especially since over the last few years, because of the fight between instant online content and physical editions of newspapers, these teams of investigators have largely been squeezed out.
During the same interview, Baron revealed that the investigation into the Catholic Church abuse that ultimately inspired Spotlight "was the most meaningful work that [he's] ever been involved in." The primary reason for this was because of the huge impact that it had on the Catholic Church, as well as politicians and ordinary people.
Spotlight not only does a fantastic job of showing the repercussions of the team's work, but it also presents to viewers exactly how the likes of Michael Rezendes, Walter Robinson, Sacha Pfeiffer, Marty Baron, Ben Bradlee Jr., and Matt Carroll fought, compiled, and created their piece. It does this in an unsympathetic manner, where even the heroes come out dirty because they could have done more, and sooner.
Expect to hear even more about Spotlight over the next few weeks, because the film will almost certainly be in line for numerous, high-profile accolades over the impending awards season. With Michael Keaton and Stanley Tucci's performances, and Tom McCarthy's writing and directing, destined for nominations.
Your Daily Blend of Entertainment News
Thank you for signing up to CinemaBlend. You will receive a verification email shortly.
There was a problem. Please refresh the page and try again.