What Are The Chances That Epic Dennis Quaid Freakout Is Real?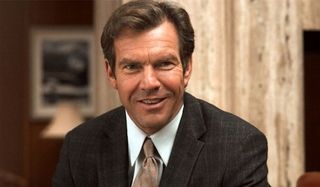 Movie sets can be tense places full of heightened emotions and raw nerves, so it's not uncommon for actors and other players to freak the hell from time to time. Recently, a video of Dennis Quaid in the midst of an expletive-filled tirade started making the rounds, but it's so over the top that some people have questioned it's authenticity.
The video, taken with what appears to be a smartphone, show the 61-year-old G.I. Joe: The Rise of Cobra star losing his damn mind after being interrupted on set for what sounds like the umpteenth time. He certainly lets loose, unleashing a tidal wave of curse words and insults, not only at whoever he's talking to, but everyone around. At one point he says, "I have a bunch of pussies starring at me."
This footage arrived online a few days ago with little to no context and proceeded to go viral in short order, ready made for such a feat. Part of the reason why people wonder whether or not this is genuine is that there is nothing around it to provide a framework. That doesn't mean it isn't real, but some have speculated that this could be a prank.
Many think that this could be the handy work of someone like Jimmy Kimmel, who has been the driving force behind similar hoax videos in the past, like "Worst Twerk Girl Ever Catches Fire." They just released that video on YouTube and waited for it to catch on.
There is something about the Dennis Quaid video that does feel just a little bit too perfect to be real. At times it's like he's delivering lines. There's no frustrated stammering or missteps you normally associate with an epic, spur of the moment rant like this, and everything comes out smooth, like it would in a movie. Granted, if this has been building for a while, it's entirely possible that this is something that has been forming and is just finally ready to explode. He really did have unusual bits like calling one guy "Dopey the Dick" ready to though, didn't he?
If this does turn out to be legit, it could be from his upcoming movie Truth, about a scandal involving news anchor Dan Rather, which costars Cate Blanchett, Robert Redford, Elizabeth Moss, and Topher Grace. Directed by first time helmer James Vanderbilt, this would definitely be one hell of a way to kick off a new creative endeavor.
[[ br. ]] Do you think this is real or a hoax? Sound off below.
Your Daily Blend of Entertainment News
Your Daily Blend of Entertainment News
Thank you for signing up to CinemaBlend. You will receive a verification email shortly.
There was a problem. Please refresh the page and try again.