What To Expect When You're Expecting Will Get Brooklyn Decker Pregnant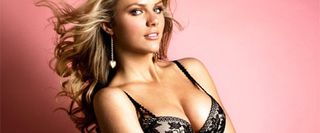 Brooklyn Decker is set to star in the movie version of What to Expect When You're Expecting. Yeah it's based on that book pregnant wives force their husbands to read. Now gents, we can skip the book, and instead watch the movie version with that really hot chick in the bikini from Just Go With It. This idea is made of win.
Already in the film's cast are Cameron Diaz and Jennifer Lopez. It's worth noting that this is Lopez's second pregnancy movie in as many years. Her first one was The Back-Up Plan, a movie which I still believe may be one of the worst films ever made. So this movie has that going for it.
What To Expect is being structured like Crash (though Lionsgate would rather compare it to Love Actually), which is to say it'll tell a bunch of separate but eventually interlocking stories. In this case the subject will be pregnant women, instead of racism. Brooklyn Decker will play a perky character named Skyler in one of those interlocking stories. She's married to an older man, pregnant with twins, and everything goes smoothly for her, pissing off all her friends in the process. Pretty girls get all the perks.
What to Expect When You're Expecting will tell the stories of four different pregnant couples, all told. I feel it's safe to predict that the whole thing will somehow end up with all four women giving birth in the same delivery room. Sure this has been done by at least six Hugh Grant movies, but that's really the only place a story like this has to go.
Your Daily Blend of Entertainment News
Thank you for signing up to CinemaBlend. You will receive a verification email shortly.
There was a problem. Please refresh the page and try again.