What Fast & Furious 8 Is Changing From The Earlier Movies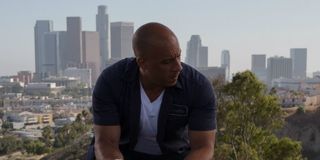 Now that Furious 8 has a director, Straight Outta Compton's F. Gary Gray, it seems like the project is finally back on track for release in 2017. We still don't really know anything about the plot of this installment, aside from what little rumblings we picked up here and there, but Vin Diesel confirmed one of the biggest changes coming our way: the setting.
Diesel, who plays Dom Toretto in the popular franchise, went on The Tonight Show with Jimmy Fallon (opens in new tab) the other night to promote The Last Witch Hunter, and he said that Furious 8 will indeed be headed for the Big Apple. The actor previously teased that the story would take the crew to New York, somewhere the films have never previously depicted, and now we have confirmation.
Furthermore, Diesel reiterated to Fallon that Furious 8 is part of a grander trilogy. The late-night talk-show host asked whether he planned to do three more films, and Diesel replied, "a trilogy, yes." After Furious 7 became the fifth highest-grossing movie of all time, rumor has it that this trilogy will close out the franchise.
Watch Diesel's comments on the Furious 8 setting and subsequent trilogy in the below clip, in which he also confirms Gray as the director.
It's safe to say that Furious 8 will return the majority of the cast to the fold, but it's unclear how the film will handle the aftermath of Brian O'Conner. After the death of Paul Walker in 2013, Universal and its filmmakers paid tribute to their fallen comrade by sending off his character with an emotional tribute. The end of the film saw O'Conner race Diesel one more time before driving off into the distance.
Jordana Brewster, who plays O'Conner's wife Mia in the films, went on HuffPost Live a while ago to talk about her character's potential to return for Furious 8. At the time, she said she didn't know whether or not she'd do another film, but then she said that it's all up to the fans. Since the fans seem to want another movie, it seems that Mia will also return. But if so, then how will it factor in the absence of O'Conner? You can offer your own musings on that while we wait to hear more information.
Dwayne Johnson confirmed that at least he will be back for the Furious 8 action in NYC, and the film is currently set for release on April 14, 2017.
Your Daily Blend of Entertainment News
Thank you for signing up to CinemaBlend. You will receive a verification email shortly.
There was a problem. Please refresh the page and try again.