What The Hunger Games And Guardians Of The Galaxy Have In Common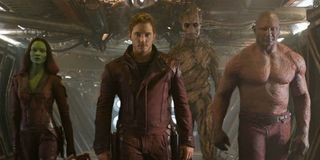 At first glance, The Hunger Games: Mockingjay - Part 1 and Guardians of the Galaxy may not seem to have a lot in common. While they both share a similar idea of defeating a dictating evil, Mockingjay is much more politically-driven than the action-heavy Guardians. So what exactly makes these two films so similar? Well, turns out that Mockingjay just hit a milestone at the box offices, joining Guardians of the Galaxy in grossing over $300 million this year.
Guardians of the Galaxy will finish out on top this year with $332 million domestic run and The Hunger Games: Mockingjay - Part 1 passed the $300 million mark today, making the two films the only films over $300 million this year. This year has been disappointing at the box offices. Variety reports that U.S. grosses are down about 5% in comparison to last year, which had Catching Fire, Iron Man 3 and Frozen all finish over $400 million. But, while people are just not going out to the movies as much, the critical-acclaim, especially on Guardians was at a serious high. James Gunn's film grossing the highest this year was a big surprise in the industry. Despite the excitement within the Marvel fanbase, nobody expected the film to be as big of a hit as it was. And nobody expected this year to be the year of Chris Pratt either.
Another commonality between the two films is that their leading actors were the stars of the year. Jennifer Lawrence has been building up some steam for a little while now, but this year was especially notable for her, starring in Mockingjay and X-Men: Days of Future Past. Her work this year gained her the most money in Hollywood too, as Lawrence took the title of the top-grossing actor of 2014, according to Forbes. And second in line was the lead actor in Guardians of the Galaxy Chris Pratt, who also starred in another blockbuster hit this year, The Lego Movie. Pratt went from a TV funny-guy to A-list celebrity in the span of one year, and to be up on the top of this list after that little amount of time is incredibly impressive.
Both films also have sequels coming out in the next few years, though they will not be competing in the box office the same year. The Hunger Games: Mockingjay - Part 2 is scheduled to release November 20, 2015 and will be Lawrence's last time playing Katniss Everdeen. As for Guardians, we have some time to wait. Guardians of the Galaxy 2 is scheduled to hit theaters May 5, 2017. Both are bound to be at the top of the box office charts in their designated release years, we'll see where they land as the time comes.
Your Daily Blend of Entertainment News