What Patrick Dempsey Is Doing In His First Movie After Grey's Anatomy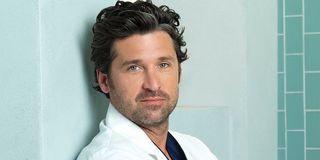 Patrick Dempsey left Grey's Anatomy last season and the show hasn't been the same since. Well, his character didn't leave, technically, he died after a car accident. Life will go on for the popular Shondaland series, but what of Dempsey, you might ask? "McDreamy" has landed his first role since leaving the show, and it's a part in the upcoming Bridget Jones movie.
As reported by Deadline, Dempsey is in final negotiations to join the cast of Bridget Jones' Baby, the third cinematic installment of the Renee Zellweger-led property. The actress will reprise the title role of the klutzy, 40-something publishing executive, while Colin Firth will reprise his role as her love interest, Mark Darcey. As for Dempsey, it's unclear which character he will play in the film, but at the very least, the cast just got a lot more attractive. After all, Hugh Grant's character, Daniel Cleaver, played a similar role. If anything, though, Dempsey will be a nice piece of eye candy.
After leaving Grey's, Entertainment Weekly published an interview with the actor, who said he wanted to "try something different" with his next acting project, though he feared that he couldn't separate himself from Dr. Derek Shepherd because he's such an identifiable character. Even if that were the case, Dempsey did score roles in Transformers: Dark of the Moon, the 2010 rom-com Made of Honor, and Enchanted. Fans of the show will always recognize him as "McDreamy" the same way Batman fans will always see Michael Keaton as the Dark Knight, but moving on shouldn't be an issue for this guy.
If anything, a Bridget Jones movie is a good move for him. Though it marks something new, it's also part of a popular franchise with a built-in audience, and chances are a good portion of Grey's fans are also interested in Bridget Jones. As the title of the next film suggests, Bridget is having a baby. Deadline also reports that the film will be based on a series of columns written by Bridget Jones creator Helen Fielding instead of her latest novel. (Spoiler alert: her latest novel, Mad About the Boy, sees Bridget having multiple kids, while Firth's character has died. Given his popularity, it's likely that this source material won't be pulled for the film.)
Fielding worked on the earlier drafts of the script with One Day's David Nicholls, while Sharon Maguire, who helmed the first film, will be back to direct this installment.
Your Daily Blend of Entertainment News
Thank you for signing up to CinemaBlend. You will receive a verification email shortly.
There was a problem. Please refresh the page and try again.