Colin Firth Ready To Do Bridget Jones 3? Here's What He Says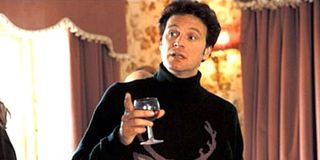 It's been 11 since the second installment of Bridget Jones and since then we've been awaiting a third film. We've had teases of a screenplay, even before the third book was released, but there has not been definitive answers on whether or not the film will go into production. But, hope is not lost. Colin Firth thinks it's finally time to get moving on the third story, and teases a strong maybe for the film.
While promoting his upcoming movie, Kingsman: The Secret Service, Firth was naturally asked about future projects, including Bridget Jones's Diary 3 becoming a reality. He told The Independent:
In 2013, when the rumored third project was up in the air, Firth had told fans it may be a long wait, and wait we did, it is now 2015, and it looks like Firth is ready to go. The two previous films were huge box office hits, grossing over $540 million worldwide. The third movie has seemingly been in the works since 2009. But, the real question is will the other stars of the movie return?
Last October, Hugh Grant told Free Radio that he dropped out of the third film. He continued:
And in response, Renee Zellweger made comments that she would love to do the project. Claiming it "would be fun" but she had no idea of any progress, claiming she hasn't been in the loop on the hold up. The original third installment was title Bridget Jones's Baby and was apparently going to tell the story of Bridget in her 40s and desperate for a baby while still torn between Grant's Daniel and Firth's Mark Darcy. But without Grant, how exactly can a story like this be effective?
It would be an interesting story, a new generation that Firth hints upon, but since audiences were less enthused with the 2004 sequel, Bridget Jones: The the Edge of Reason this new film will need an impressive new quality. It's been over 10 years now, so if there's not going to be a fresh new story, it is pretty much pointless. Sequels, prequels, etc. have been dominating the film industry lately, so to really stick out and make a point, the quality has to stand up. Firth adds:
We'll keep an eye out for any more Bridget Jones updates, but for now, you can see Colin Firth in his new action-comedy Kingsman: The Secret Service hitting theaters February 13, 2015.
Your Daily Blend of Entertainment News
Thank you for signing up to CinemaBlend. You will receive a verification email shortly.
There was a problem. Please refresh the page and try again.