What Pee-Wee's Big Holiday Will Actually Be About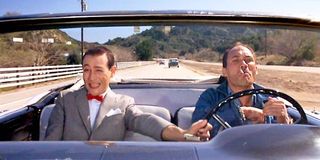 There has been a lot of talk about the new Judd Apatow-produced Pee-wee Herman film since we first heard about the project years ago. Now we finally know what the plot of the long-awaited Paul Reubens vehicle is going to be... and let me just say it sounds fantastic.
According to a recent press release, the new film entitled Pee-wee's Big Holiday will see a fateful encounter with a peculiar stranger inspire Pee-wee to venture out on his very first holiday in this "epic story of friendship and destiny." A simple yet appropriate setup for everyone's favorite bowtie wearing man-child. In other words, it is the perfect plot to help springboard the return of the iconically unconventional character's hyper-hilarity and over-the-top reactions.
It was back in 2010 when news of the collaboration between Apatow and Reubens first surfaced. Back then all we knew was that the Anchorman producer was interested in bringing Pee-wee back to screens and that Reubens and actor Paul Rust (Arrested Development, Comedy Bang! Bang!) were onboard to write the script. Things sort of died down after that until the project began gaining steam in recent years. Then in 2013 it was announced that the movie had a director, but Reubens, perhaps in the spirit of his quirky childlike Pee-wee persona, wouldn't share his name. We now know first-time feature film director John Lee, co-creator of Wonder Showzen, will be helming the project with production set to begin next month.
It has now also officially been announced that Netflix will be the distribution partner of choice for Pee-wee's Big Holiday. The leading subscription on-demand video streaming service has agreed to exclusively premiere the adventure comedy in all of its territories. All parties involved seem very excited about the news, particularly Reubens, who had this to say:
Reubens has been working hard over the last few years to reintroduce his beloved 80s-90s character Pee-wee to modern audiences. Back in July of 2012 he hilariously voiced The Dark Knight Rises trailer as Pee-wee for a skit on The Tonight Show with Jimmy Fallon. It went over so well with audiences that Fallon reprised the skit again later that year in November with a Pee-wee voiced World War Z trailer. Check that one out below:
Reubens more recently took the driver seat in TV on the Radio's music video for "Happy Idiot," a collaboration that couldn't have come together better. Reubens also appears in the David O. Russell (under the pseudonym Stephen Greene) film Accidental Love, co-starring Jessica Biel, Jake Gyllenhaal, James Marsden, Catherine Keener, Tracy Morgan and Bill Hader, released earlier this month. Where did this movie come from and why haven't we heard about it until now?
Your Daily Blend of Entertainment News
Thank you for signing up to CinemaBlend. You will receive a verification email shortly.
There was a problem. Please refresh the page and try again.